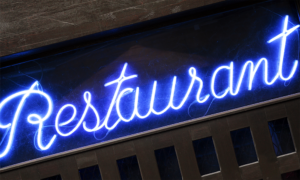 Restaurant signs – cheaper than anywhere else!
Do you want to save up to 25% when ordering restaurant or cafe signs?
We produce cheap but quality signs for restaurants. With Quarter Cheaper Signs, you can save up to a quarter of average market Metro Vancouver prices!
Today, you can find a variety of signs that "entice" customers to visit a restaurant or cafe. They differ in shapes, design and materials. Depending on the status of the institution and the budget of its owner, they can have various lighting effects and decorative elements.
Volumetric signs are bright, creative and attractive, and always look advantageous against the background of standard flat designs. They are visible from a long distance and can increase customer loyalty. The built-in backlight makes such outdoor advertising bright and attractive even in the dark. The advantage of using such a design is round-the-clock work, which is important for institutions such as restaurants. Aluminum, acrylic and plastic can be used. The size range is also not limited.
Basic rules for the design of signboards for a restaurant
A restaurant sign should look solid and respectable. It should harmoniously blend with the general architecture of the building and correspond to the status of the institution. It should be immediately evident regardless of weather conditions and time of day, and the information indicated on it should reflect the specifics of the institution.
This type of sign is perfect for freestanding volume letters with various backlight options.
If the restaurant has decent service and fine cuisine, then the sign should be made only of quality materials. Unique, laconic fonts, calm color tones and average dimensions of the sign will attract much more visitors than a garish color scheme and intricate letters.
If a restaurant just opened, and its owners do not have the opportunity to invest many finances in outdoor advertising, there is nothing to worry about. After all, you can order a light box. It looks no less impressive and is able to attract the attention of visitors around the clock.
Features of the production of signboards
Advertising signs for restaurants are made with the latest technology and produced with high-precision equipment. Thanks to this, it is possible to realize the most unusual ideas. If you are interested in this type of sign, you can always contact us for detailed advice. Our experts will help you realize any projects.
Free and fast restaurant signs quotation
We will give you an instant price quote for your restaurant signs!
Call now 778 697 2169! Remember – we will beat any prices!
Free restaurant signs design
We will create a bright and catchy eye design for your restaurant signs for free!
Free restaurant signs delivery
When you are ordering any type of restaurant signs from our company, we do free delivery by regions: Coquitlam, Port Coquitlam, Port Moody, New Westminster, Burnaby, Pitt Meadows, Maple Ridge!