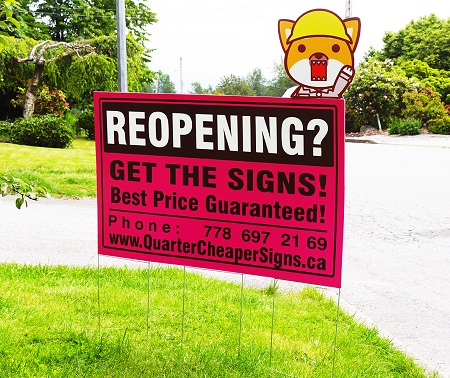 How much yard signs in Vancouver cost?
Average market cost of yard signs in Vancouver
(2 sides/full colour printing/4mm Coroplast)
| | | |
| --- | --- | --- |
| View | Price yard signs without laminated | Price yard signs with laminated |
| 6"x24" yard sign | 17,85 CAD | 28,35 CAD |
| 12"x18" yard sign | 19,95 CAD | 30,45 CAD |
| 18"x24" yard sign | 22,15 CAD | 37,90 CAD |
| 18"x27" yard sign | 24,15 CAD | 39,90 CAD |
| 24"x36" yard sign | 46,30 CAD | 67,30 CAD |
Do you want to save up to 25% when ordering yard signs?
We produce cheap but quality custom yard signs. With Quarter Cheaper Signs, you can save up to a quarter of average market Metro Vancouver prices!
Our prices — the lowest prices for Yard Signs
(2 sides/full colour printing/4mm Coroplast)
| | | |
| --- | --- | --- |
| View | Price yard signs without laminated | Price yard signs with laminated |
| 6"x24" yard sign | 13,60 CAD | 21,60 CAD |
| 12"x18" yard sign | 15,20 CAD | 23,20 CAD |
| 18"x24" yard sign | 16,90 CAD | 28,90 CAD |
| 18"x27" yard sign | 18,40 CAD | 30,40 CAD |
| 24"x36" yard sign | 35,30 CAD | 51,30 CAD |
Yard signs: What is this product?
The plate is one of the most inexpensive and useful advertising media. This is a small but necessary business tool.
Yard signs are such special signs that are most often installed in the yard and can help you establish any order or help with the political campaign for election or the sale of real estate at cheaper cost.
Yard signs are manufactured in custom sizes and do not have specific manufacturing standards.
An information plate is an important attribute of any organization, regardless of its field of activity. They can display a variety of information, but the main difference between the labels is where they will be used – indoors or out. For the printing of yard sign plates that will be located on the facade of the building, materials that are resistant to atmospheric precipitation, which are easy to clean, are chosen, and most often customers prefer metal. External labels have large print for inscriptions, since the data should be clearly visible from a long distance.
Office labels indicate the office number or personal data of the employee, so the large size yard sign can be much more modest. For such plates, we consider plastic yard signs to be the best choice, because it is distinguished by its durability and affordable price. Door yard sign plates in hotels front are selected according to the general decoration of the room, because they are a kind of interior element.
A separate category consists of warning or prohibitive signs, which may contain signs and international symbols. The need for this arises in public places e.g. construction or realtor yard signs in order to properly zone the territory and help people navigate the terrain.
What is the process of making plates?
After creating a template on a computer, a program for creating code and robotic dense material is loaded into it, cutting out the border sign and symbolism on a sheet of self-adhesive film. Like the one from which we see ads in the windows of many stores about discounts and much more.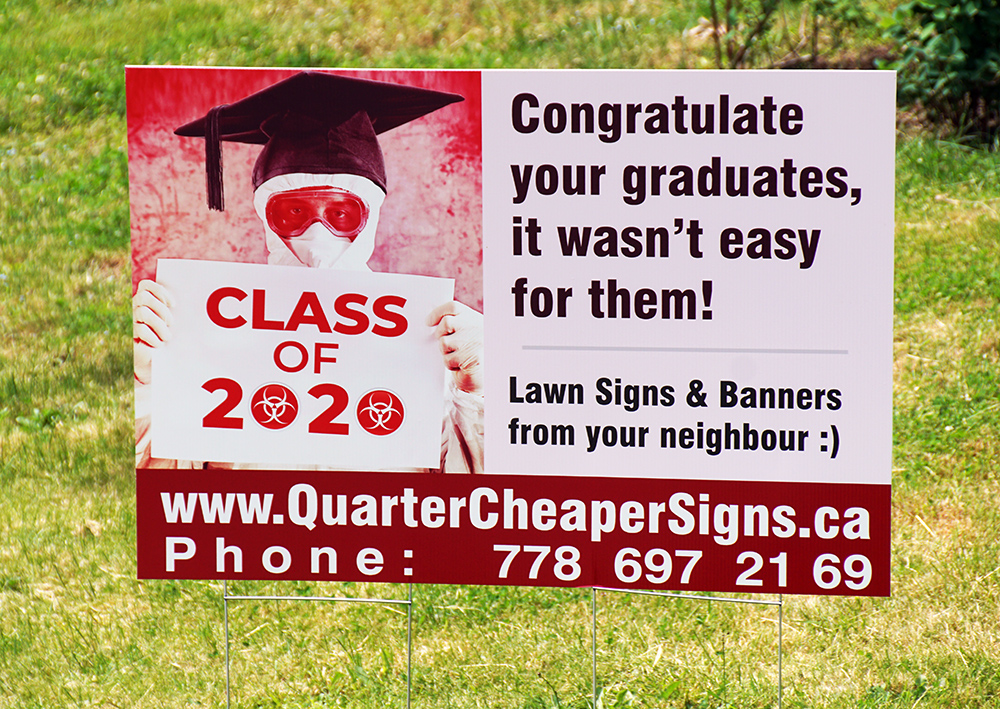 After that, everything is checked for defects. After checking the quality of the layout, prepare the frame from the polyester fabric necessary for the signboard manufacturing process. It is coated with a thin layer of photosensitive paint. When the paint dries, a template for a previously cut road sign is pasted onto it then it gets placed in a vacuum frame and air is pumped out to remove wrinkles on the surface.
When the process of pumping air is completed, the fabric emits light from a special luminous flux up to 6 thousand watts. Sample etching. Special purpose sign template fabric. In this case, the surfaces are placed under the aluminum plate. Cut them into pieces of a fixed size. Subsequently, the drawing of the sign is applied to these parts. This is done using a small industrial guillotine. Close corners on future signs and make holes for fixing bolts.
After the cleaning of sheets in tanks with special chemical solutions, remove residual grease, dirt and other particles.
The last stage of preparation for sign yard printing
Now you can go directly to the drawing. To do this, use screen printing technology. Polyester is a lot cheaper. The station for the production of road signs paints on an aluminum plate through a screen with a layout made earlier. The paint penetrates through the hole in the fabric, thereby forming a colorful background on the surface of the road sign. After applying the paint, it should be in the drying chamber, where the temperature does not exceed 66 degrees. To make a street name plate, the aluminum plate is covered with a reflective film as a background, and then the street name is applied by screen printing. Or this method is not as durable as silk-screen printing.
For the manufacture of multi-color characters, only the screen-printing method is used. We apply paint, thereby interfering with the mixing of colors. The applied paint is sufficiently transparent in its composition and does not affect the reflective film deposited on the sign with a layer below. This sign has a reflective ability, not just letters.
We manufacture products based on plastic and aluminum – the simplest to use, durable and inexpensive materials.
Aluminum is a great option if you need to create a stylish tablet. Painting for metal (silver, golden) looks solid, because the product can be used in institutions, large companies that value their reputation. Another plus of aluminum is its low weight, thanks to which the plate can be mounted on the door from any materials.
Plastic is another practical material with wide yard sign design capabilities. For the production of plates and pointers, two-layer plastic is used. The colors of the layers can be the same or different, which allows you to beat any color scheme, for example, in corporate colors.
Like aluminum, plastic weighs virtually nothing; it is easily mounted on any surface.
Both materials are highly resistant to external phenomena. They are not afraid of dampness, frost, and ultraviolet or temperature difference. Therefore, such yard sign plates can be used both indoors and outdoors.
The durability and good preservation of the plate for a long time are guaranteed.
Yard signs: How to make?
Where are pointers of this kind most in demand? As a rule, they are simply necessary when it comes to crowded places.
Bus stops, metro, supermarkets – difficult to imagine such objects without the presence of information plates. It is these signs that help customers navigate in the immense sea of ​​opportunities. Such signs not only allow you to correctly,
Send people by providing them with information about the location of a particular object, but also often serve as a smart marketing move.
For example, having placed a sign with the word "snack bar" and a pointing arrow in the lobby of the railway station, you can significantly increase the level of sales even to a modest station cafeteria. Also, information stands are often used as signage for offices of a certain type of enterprise. For example, the state structure is unlikely to order a bright neon sign. But a solid information stand is just what is needed.
What can we give recommendations for the operation of business yard signs?
To use the signs for a long time, we recommend that you observe the following rules:
Use soapy water or 1-2% to remove traces of dirt and dust
Soda solution.
Use mineral spirits, gasoline, solvent or nefras to remove oil products and coal dust.
Use detergents on the surface of the mark with a spray.
Wipe the surface of the mark with a soft cloth or a cloth dampened with plenty of water.
Do not use hard brushes for cleaning.
No dry cleaning of signs.
Do not use fuel or organic solvents for cleaning.
Avoid exposure to high temperatures, in particular, do not use devices designed for cleaning with steam.
Do not use snow and rainwater to clean signs.
What are the signs for?
Yard signs can carry a variety of information. Inside buildings, they can serve as location indicators:
toilets
outputs
special rooms
Security
They should be clearly visible from a distance with a relatively small size. Conveniently, along with the manufacturing order, installation of information plates is offered, both inside buildings and outside. This is an important point, because the correct and reliable installation of sign plates requires appropriate consumables, tools, equipment, and most importantly experienced craftsmen who will quickly and accurately do the entire amount of necessary work.
Benefits of yard signs
Profitability
Since these yard signs are made of relatively cheap materials, they are very affordable. Yards Signs are by far one of the most cost-effective marketing solutions available. You can deliver your company's message to an audience for less than billboards, newspaper advertisements, or television and radio commercials.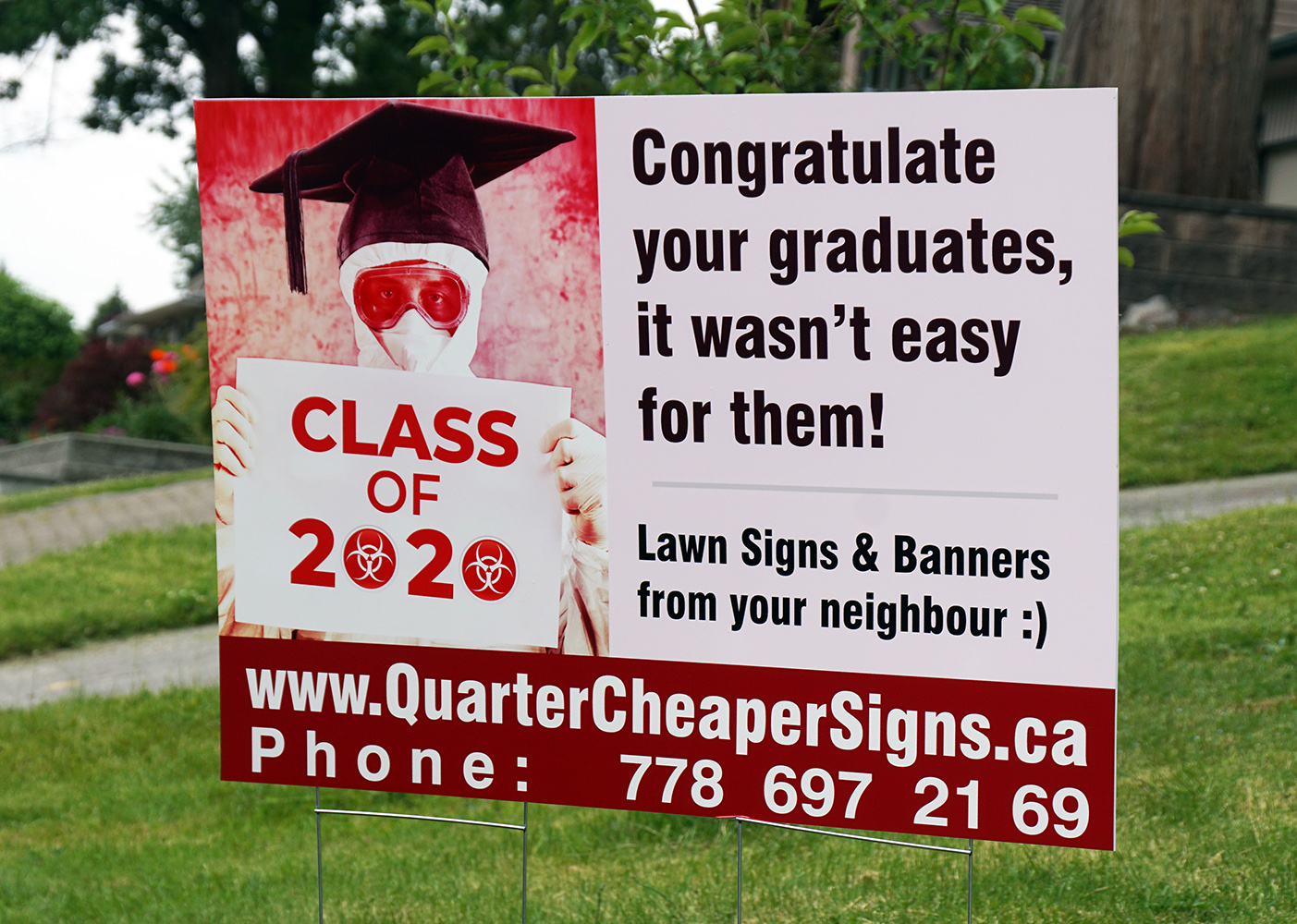 Durability
Although they are made from inexpensive materials, this does not necessarily mean that they are not durable. Coroplast yard sign or corrugated plastic is actually durable and able to withstand harsh weather conditions. You do not need to worry about moving them when the weather worsens. As long as they are securely installed in place, these signs can be left outdoors for a long period of time and maintained.
A feature of the address plates is a bright and memorable design, attracting the attention of passers-by and quick search of the address. Thanks to the use of modern technologies and high-quality materials, such plates are reliable, durable and resistant to adverse environmental factors.
By design, it can be simple pointers or light boxes, and they are made of plastic, acrylic and metal, composite. As a backlight, ordinary incandescent lamps or economical LEDs are used.
At the client's request, it is possible to install photocells that work automatically and are characterized by energy efficiency, reliable operation and a long service life.
To apply images and inscriptions, laser engraving, double-sided tape, and self-adhesive film are used. Yard signs can be of different sizes, full colors and configurations, which make it easy and quick to choose the right option.
The information stand has several advantages:
Low cost,
The ability to quickly change information (in stands with replaceable content).
Stand design in accordance with the logo design and company colors.
Variability of information stands (floor, wall, on rotating supports, with transparent "pockets" with a cork base).
Structured information on the stands.
You definitely need an information stand when opening a store. Indeed, in every outlet a "consumer corner" is required. You will need an information stand if you want to convey important information to customers or to announce your company to potential customers. Our experts will select the optimal solution for the stand, and the designer will help create a unique design.
How often do customers call you who cannot find your office? Does it happen that potential visitors pass by without noticing the right door? Do your customers spend time looking for the right rooms? You can never know for sure if there are no noticeable and eye-catching signs on the doors of the office, as well as information cabinets for key employees' offices.
Information boards are a great way to save the time of your customers, as well as increase their loyalty due to a well-organized office space. Information boards developed by our designers will not only be useful in optimizing customer flows, but will also add status to the halls and corridors of your office. Advertising signs, made in accordance with the style of the company, will be the final touch in the image of a successful organization.
Custom yard signs: Questions and answers
Customers often ask questions. We decided to answer the most frequent questions.
Question: Can I order high-quality, but cheap political yard signs?
Answer: Yes. You need to understand that these products, made from inexpensive, but durable materials, are already affordable products. If we consider that we are ready to offer you a discount, then you will order designs from us at the most favorable cost for you.
Question: Can I order any products of my own design, including security yard signs?
Answer: Yes, it is possible. For us, the type of design is not important. The main thing is that you decide exactly what you want to order.
Question: Do construction yard signs or other varieties of these products deteriorate in the rain?
Answer: No, because they are made of materials that are specifically designed for the manufacture of structures for outdoor use. These materials do not deteriorate in the rain, snow and withstand wind gusts.
Question: Is the information on yard signs for sale clearly visible?
Answer: Yes. Good visibility is provided by several details. The stakes on which the structures are mounted are high enough so that vegetation does not interfere with the information. We use high-quality ink for printing, which ensures the brightness and clarity of the printed information. Before making large yard signs or smaller structures, we think over the design with the customer. Because the result of the perception of advertising by potential customers depends on the design features, the choice of colors, the location of the information blocks.
Yard signs near me
The price of advertising designs is important. Therefore, many are interested in this question: How much do one-color or full color yard signs cost? Their cost may differ. The price is affected by several factors. This is not only the size of the future product.
Will printing be in one or more colors?
Will the information be on only one or both sides?
Will it be a coroplast yard sign or a structure made of another material?
All of these questions must be answered in order to understand how much money will need to be spent to make advertising designs. Can I order cheap yard signs? Yes. Our company will make designs for you, the price of which will pleasantly surprise you!
What options can we order from us? There's Variety! You order political yard signs. These will help to effectively organize a political campaign, get the desired number of votes. You can order birthday yard signs from us. These products will help to spend an unforgettable holiday with your loved one. You can also order a nest security yard sign from us.
Turning to Quarter Cheaper Signs, you can order different advertising designs:
Free and fast yard signs quotation
We will give you an instant sale price quote for your yard signs!
Call now 778 697 2169! Remember – we will beat any prices!
Free yard signs design
We will create a bright and catchy eye design for your yard signs for free!
Free yard signs delivery
When you are ordering any type of yard signs from our company, we do free delivery by regions: Coquitlam, Port Coquitlam, Port Moody, New Westminster, Burnaby, Pitt Meadows, and Maple Ridge!