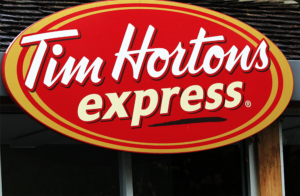 Storefront signs – cheaper than anywhere else!
Do you want to save up to 25% when ordering storefront signs?
We produce cheap but quality storefront signs. With Quarter Cheaper Signs, you can save up to a quarter of average market Metro Vancouver prices!
An advertising sign is a structure installed both on the facade of the building, directly in front of the entrance, and indoors (reception office). In most cases, signs carry information about the organization (store, furniture salon, travel agency, etc.) located inside the building on which it is located. In other words, this type of outdoor advertising is also a means of information and advertising. A lot depends on the quality of the design, manufacture, installation of this element. First of all, the image of the organization and the success of its activities in the market.
If this is a large company, then all elements, including outdoor advertising, must comply with the strict rules of corporate identity, not only graphically, but also qualitatively – all parts of the advertising structure must be neatly interconnected, and the dynamic and backlight elements should function properly. If this is a small organization like a restaurant, a shop or a cafe, then the success or failure of such a project will depend on the design and overall quality of manufacturing.
In general, we can say that the main task of outdoor advertising is to clearly inform the user that this particular establishment are exactly what they are looking for! A sign can be safely called a business card, which speaks to the level of organization, the quality of the services provided, and the range of goods offered.
What are the different types of construction?
Light advertising constructions come in the form of:
light boxes
volume light letters
neon signs
LED signs
off-light
combination of all types
Light boxes are the most common type of outdoor advertising, and their manufacture has a fairly low cost compared to other types. Usually a light box is a rectangular frame design, the front of which is an advertising medium. It has internal illumination with fluorescent lamps (or currently LEDs), which makes its use effective at any time of the day.
Volume letters (illumination by led or neon) are a more effective and attractive means of outdoor advertising, compared with light boxes. There are volumetric light letters with internal and external illumination by LEDs, as well as neon. The use of neon in the manufacture of volumetric letters is currently not practiced due to the greater energy consumption and fragility compared to LEDs.
Previously, neon was used as the main tool in outdoor advertising. Today, the use of neon tubes is quite rare. It is mainly used as decorative lighting to create a certain mood, for example, in bars and restaurants, as well as to create tablets with the inscription "OPEN."
LED signs are the most modern and attractive type of illuminated advertising both in terms of design and technical indicators (durability of LEDs, as well as low power consumption).
Off-light outdoor advertising includes:
non-light panels
non-illuminated flat letters
wooden signboards (wooden letters)
plates
or combinations thereof
In most cases, they are an image that is printed on film, then rolled onto an advertising medium made of cellular polycarbonate, metal or PVC. Direct UV printing is also possible.
Today, the production of non-illuminated signs is the least expensive type of advertising, allowing people to get the information they need across. However, due to the lack of internal illumination in the dark, their effectiveness decreases. This can be avoided by installing external lighting.
Manufacturing technology
Consider the technology for the production of this type of outdoor advertising as a light sign for a store. It all starts with the desire of the customer and rests on the ability of the seller to realize his desires. The creation process can be divided into the following steps:
creating a design layout and linking it to an existing object
approval of the layout and creation of a technical project
registration of advertising, if required
manufacture of structures
installation of structures
Free and fast storefront signs quotation
We will give you an instant price quote for your storefront signs!
Call now 778 697 2169! Remember – we will beat any prices!
Free storefront signs design
We will create a bright and catchy eye design for your storefront signs for free!
Free storefront signs delivery
When you are ordering any type of storefront signs from our company, we do free delivery by regions: Coquitlam, Port Coquitlam, Port Moody, New Westminster, Burnaby, Pitt Meadows, Maple Ridge!