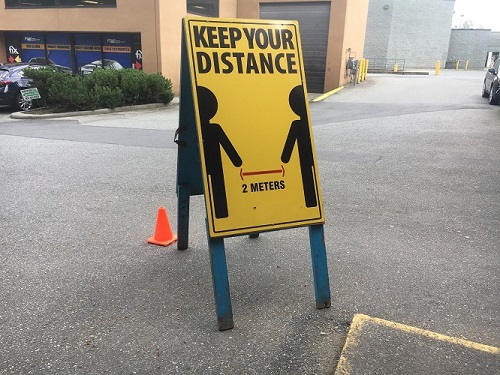 How much Social Distancing Signs in Vancouver cost?
Average market cost of Social Distancing Signs in Vancouver
(2 sides/full colour printing/4mm Coroplast)
View
Price Social Distancing Signs
without laminated
Price Social Distancing Signs
with laminated
6"x24" social distancing sign
17,85 CAD
28,35 CAD
12"x18" social distancing sign
19,95 CAD
30,45 CAD
18"x24" social distancing sign
22,15 CAD
37,90 CAD
18"x27" social distancingn sign
24,15 CAD
39,90 CAD
24"x36" social distancing sign
46,30 CAD
67,30 CAD
Do you want to save up to 25% when ordering Social Distancing Signs?
We produce cheap but quality custom Social Distancing Signs. With Quarter Cheaper Signs, you can save up to a quarter of average market Metro Vancouver prices!
Our prices — the lowest prices for Social Distancing Signs
(2 sides/full colour printing/4mm Coroplast)
View
Price Social Distancing Signs
without laminated
Price Social Distancing Signs
with laminated
6"x24" social distancing sign
13,60 CAD
21,60 CAD
12"x18" social distancing sign
15,20 CAD
23,20 CAD
18"x24" social distancing sign
16,90 CAD
28,90 CAD
18"x27" social distancing sign
18,40 CAD
30,40 CAD
24"x36" social distancing sign
35,30 CAD
51,30 CAD
Free and fast Social distancing signs quotation
We will give you an instant price quote for your Social distancing signs!
Call now 778 697 2169! Remember – we will beat any prices!
Get any signboard to remind your customers of "social distance" – 25% cheaper than the Vancouver average!
We offer you signs for social distancing at the lowest price in the greater Vancouver region.
Social Distancing Signs: what are they
Everywhere in the world, including Canada and, in particular, in Vancouver, today there is a tense situation. This is due to the proliferation of COVID-19. But since people cannot constantly live in complete isolation, the authorities have to establish rules for visiting public places. It's about social distance. What is it? It's keeping a distance between people in order to reduce chances of infection.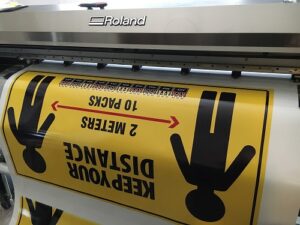 To prevent the population from forgetting how to behave in public places, social distancing signs are used. These are signs that remind people to keep social distance. Their design is always very bright, noticeable, able to provide maximum attention to them from visitors to various public places. The design of the signs is always clear. As a rule, they contain understandable characters, as well as warning and regulating behavior text.
When designing social distancing signages, remember that there are no drastic prohibitions. That is, you need to think through the tone of information. Prohibition signs may cause unnecessary concern to visitors to public places. It is necessary that they contain information that would be similar to a persistent request. Then people will understand that the signs carry the care of their health.
The inscriptions can be very different:
Please observe social distance;
We ask you to remember the social distance;
Please stand here;
Use hygiene products to protect your health, etc.
As for the colour scheme, as a rule, catchy, signal colours, for example, yellow and red, are chosen for the manufacture of Social distancing products. These colours subconsciously attract attention, adjust to cautious behavior. Their use allows visitors to public places to understand that it is necessary to behave in a certain way in order to protect their health.
Types of Social Distance Products
To ensure social distance today, different signs are used. The difference in their performance may be based on the location, type of recommendation or external features.
By placement
These can be Social distancing floor signs, which are placed directly on the floor. Their shape can be different: round, oval, rectangular, square. In terms of size, they are often not too big, but sufficient to be noticed. Such signs indicate where it is better for the visitor to stand in order to reduce chances of infection.
It can be wall signs. They are placed directly on the surface of the walls. Like the floor, they can have a different shape. They are different in size. If signs are placed approximately at the level of view of visitors to public places, then they are often small in size. If it is necessary to attract the attention of a large number of visitors, then their size is often larger.
Signs may be used which can be installed in a suitable place for their placement. Often these are folding, easy to move Social distancing signs. They can be seen not only indoors, but also on the street. An example is the a-frame construction, which is often mounted on sidewalks.
Window Social distancing stickers are often used. They, like other options, warn of the need to ensure social distance. Such stickers can be found in rooms where there are a lot of windows and not enough space to place another design.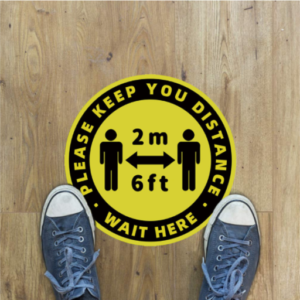 For the purpose of recommendation:
Signs that indicate the need to stand in a certain place in order to ensure distance with other people.
Signs that indicate the need for hygiene products to prevent coronavirus infection.
Signs that indicate the performance of certain procedures, for example, the need to wash hands.
According to external features
These can be social distancing stickers that have an adhesive backing. Often they undergo a lamination process in order to extend their useful life.
A-frame designs are used. They are laid out and installed on the floor in the premises or on the street surface. Lamination is also often used.
It could be posters. Their size can be different, starting from A4 format.
Banners are used, which are mounted not only indoors, but also in street conditions.
Social distancing decals are made, which are then fixed on any surface suitable for their placement.
Who needs these signs?
The requirements established by the state in order to protect the health and life of its citizens and guests of the country are the reason for mandatory preventive informing the population. Due to the fact that in 2020, the coronavirus pandemic created a high danger to life and health, certain measures began to be taken. These include placing social distancing signs. The appropriate signs should be installed wherever people are present. This also applies to premises that are used to conduct various types of business.
These signs must be installed in all public places. This is a store or cafe, all the places where people come should be properly decorated. Entrepreneurs should not only fulfill the requirement, but also understand that the health and life of customers depends on their civic consciousness, for example, by fixing the same Social distancing floor signs. In addition to customers, by installing signs recommending a social distance, they take care of the health and life of their employees. This is their direct responsibility, since it is up to the employer to create conditions that are safe for those who work for them to perform work duties.
Production goals Social distancing signs
Floor stickers are made to remind customers of the need to maintain distance. They are also a reminder to employees that, if necessary, to control customers and at the same time not to forget about their safety. Many businesses use floor signs to organize the right movement in each aisle. This eliminates the risk of infection for those who are at the same time in the premises of the same store.
Clear graphic symbols, appeals, an indication of a specific size of the distance can warn customers. They also provide an opportunity to regulate the movement of customers. However, it is recommended to use not only floor coverings for the best effect. It is advisable to place additional Social distancing decals on the walls and windows in order to increase the degree of customer safety.
It should be noted that it is very important that floor stickers are as durable as possible. Being on the floor, they have to withstand the influence of constant contact with pedestrians. Accordingly, in order not to constantly spend money on the purchase of new stickers, it is recommended to order products with additional protection.
A-frame Social distancing signages are a good way to enhance social distance right from the doorstep or, if necessary, warnings just before entering. They help limit the number of customers who visit a particular public place at a time. These designs help indicate where to be in order to prevent contact with other customers. A-frame signs allow you to control the movement of people even before entering the building where this or that organization is located, this or that type of business renders its services. The same structures act as pointers to places where you can carry out disinfecting procedures. They can also direct to places considered sanitary safe.
Social Distancing Signs: what do we offer?
Our company is engaged in the production of various types of signboards, including products that are designed for social distance purposes. You can order floor stickers from us, which are used to create a distance between customers and employees. You can immediately order a set of stickers from us at a bargain price. We make A-stands, as well as posters of various sizes. You can order metal structures from us, as well as models made of coroplast or AluPanel. If desired, we will make window stickers for you. The variety of products that you can order from us is very large. Therefore, you can always contact us for the manufacture of several types of products at once.
You do not know how best to arrange Social distancing products? We will help you with the design. We already have enough experience to advise you on how best to design your products for a social distance. We have already carried out such orders more than once, so we can help you not only in the production of the products you are interested in, but also assist in their design.
We advise you to contact the professionals.
Companies that are engaged in the production of advertising and information signs at a professional level can guarantee one hundred percent quality of the products they manufacture. Quality is an important point. The volume of your expenses depends on the degree of quality of the products used for the purpose of social distance. If the same social distancing floor signs are made poorly, you will have to contact them again soon. Accordingly, this is an additional cash outlay.
High quality ensures a long service life. It also contributes to an easier and simpler placement of products intended for organizing social distance. This saves time and effort, which is very valuable to anyone who is required to comply with the requirement of social distance.
In addition, professionals will be able to complete your order as soon as possible. This is also very important, because in the absence of social distancing signages you will not be able to conduct your business. Accordingly, if the necessary products are manufactured in a short time, then the time when you cannot work normally will be reduced to a minimum.
What affects the price?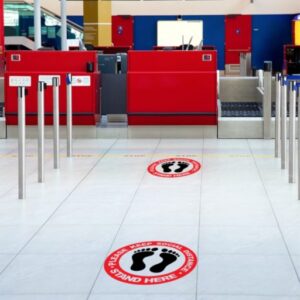 The cost of signs that inform about the need for social distance may vary. The final price is affected by:
Type and size of products;
Features of production;
Cost of materials;
The number of items ordered.
All of these factors are the basis for price changes. Therefore, before ordering the necessary products, we advise you to carefully think through the details of the order. We can help you and advise you what it is best for you to order in order to ensure social distance measures at your facility.
As can be seen from the listed types of products and prices for specific sizes, we have the opportunity to order different products. We are ready to fulfill your order now! You only need to call us or send an application using the form on our website or by sending an email to. We will immediately contact you and discuss all the details you are interested in.
Turning to Quarter Cheaper Signs, you can order different advertising designs:
Free social distancing signs design
We will create a bright and catchy eye design for your social distancing signs for free!
Free social distancing signs delivery
When you are ordering any type of social distancing signs from our company, we do free delivery by regions: Coquitlam, Port Coquitlam, Port Moody, New Westminster, Burnaby, Pitt Meadows, Maple Ridge!