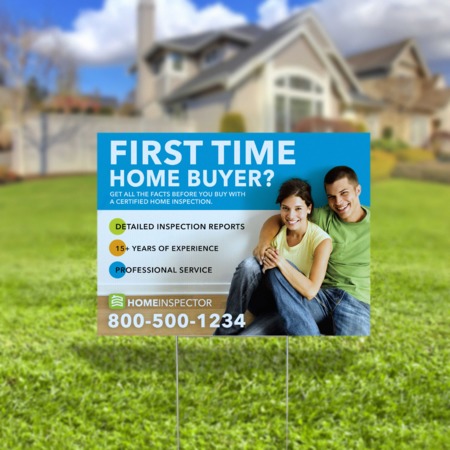 Our company operates in the Metro Vancouver Area. The main type of our activity is full-colour, large-format printing on an eco-solvent printer and the manufacture of signage. Thus, we create finished products using special materials. Finished products can be of any shape, colour and size. Nevertheless, one of the most common orders that we have from our customers is an order for the manufacture of 4-millimeter lawn signs.
How much Lawn Signs in Vancouver cost?
Average market cost of Lawn Signs in Vancouver
(2 sides/full colour printing/4mm Coroplast)
| | | |
| --- | --- | --- |
| View | Price Lawn Signs without laminated | Price Lawn Signs with laminated |
| 6"x24" lawn sign | 17,85 CAD | 28,35 CAD |
| 12"x18" lawn sign | 19,95 CAD | 30,45 CAD |
| 18"x24" lawn sign | 22,15 CAD | 37,90 CAD |
| 18"x27" lawn sign | 24,15 CAD | 39,90 CAD |
| 24"x36" lawn sign | 46,30 CAD | 67,30 CAD |
Do you want to save up to 25% when ordering Lawn Signs?
We produce cheap but quality custom Lawn Signs. With Quarter Cheaper Signs, you can save up to a quarter of average market Metro Vancouver prices!
Our prices — the lowest prices for Lawn Signs
(2 sides/full colour printing/4mm Coroplast)
| | | |
| --- | --- | --- |
| View | Price Lawn Signs without laminated | Price Lawn Signs with laminated |
| 6"x24" lawn sign | 13,60 CAD | 21,60 CAD |
| 12"x18" lawn sign | 15,20 CAD | 23,20 CAD |
| 18"x24" lawn sign | 16,90 CAD | 28,90 CAD |
| 18"x27" lawn sign | 18,40 CAD | 30,40 CAD |
| 24"x36" lawn sign | 35,30 CAD | 51,30 CAD |
Lawn Signs: what are they?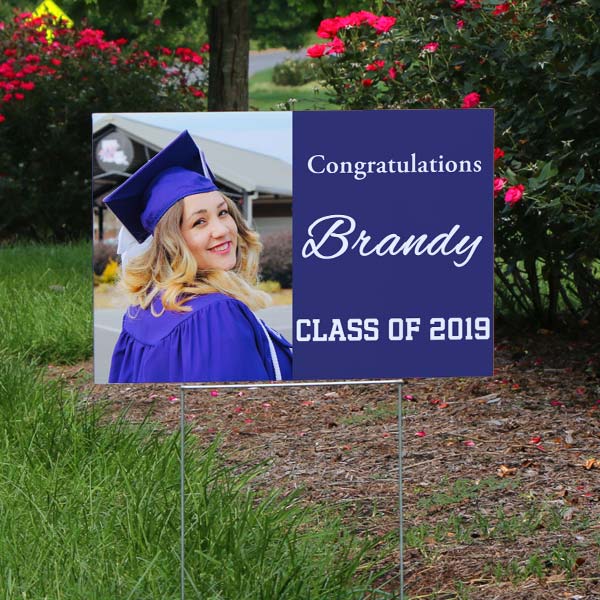 The main reason for the popularity of this type of product is that they are very affordable, and at the same time, they solve the many problems of promotion. Starting from making personal lawn signs, when someone can congratulate a friend on getting a college diploma, to a stunningly wide range of options for public and commercial uses. As you yourself can judge by the appearance of the place where you live, realtors and use by political parties are of course prevalent. During political campaigns, it can be difficult to find a free spot on the lawn in order to put another sign there. The client can order from us a sign in one colour, two colours, and three colours or in full colour.
Popular sizes:
Sometimes a customer orders a large lawn sign printing measuring 4 by 8 feet, which requires the manufacture of the frame from wooden structures.
Lawn signs cheap or expensive — common types
In addition to sizes, outdoor lawn signs can have various features. These features determine the diversity of species of such signs.
Wire stakes. Signboards with wire stakes are a popular variety. This is a design feature that provides mobility. If the sign has wire stakes, this ensures the strength of the installation, but does not interfere with moving it if necessary. The presence of such a feature eliminates the high cost of installing a sign. The durable base of the wire allows you to use it several times. Wire stakes can be regular or reinforced. The difference lies in the diameter of the wire. The reinforced model provides better stability in extreme weather, especially in strong winds. This contributes to a higher stability of the advertising structure.
The presence of a rigid frame. Rigid plastic lawn signs — reinforced model. Such signs better resist the influence of adverse environmental factors. In particular, strong winds cannot harm these advertising structures. But structures with a rigid frame require certain installation work that will allow you to securely fix the sign. Only reliable fixation will make the sign durable. Otherwise, the wind will blow it away.
Lawn sign printing can be single-sided or double-sided. A more profitable option is a double-sided sign. If the image is applied on its two sides, then advertising will be more effective. But in this case, it is important to correctly install a two-sided sign so that the advertisement is clearly visible from both sides.
Lawn Signs: who uses them?
As we said above, the main two types of clients who use the signs of the lawn are politicians during their election campaigns, and real estate companies.
There is a misbelief that the use of lawn banners does not benefit politicians who nominate themselves for political voting. However, this can be argued. Advertising impact analysts have done research. They found that election lawn signs that are set on lawns are really effective. They help to increase the number of votes for whose advertisement is placed on lawn signs. In addition, their effect extends to neighboring areas. As a result of the research, a well-founded conclusion can be drawn. Lawn advertising signs give a good result.
If we talk about those who are engaged in business in the field of real estate, then they constantly use such signs. Realtors have rated the effectiveness of real estate lawn signs. If this is a lightweight version with wire stakes, then it is very difficult for them to find an effective replacement. It is always convenient to put a sign with a wire base near the property that is for sale. If necessary, the sign is just as easy and simple to remove, put next to another scrap, which is for sale.
In addition, lawn signs banners are often ordered by companies selling land. In this case, these signs are placed so that they can be seen by both passers-by and drivers.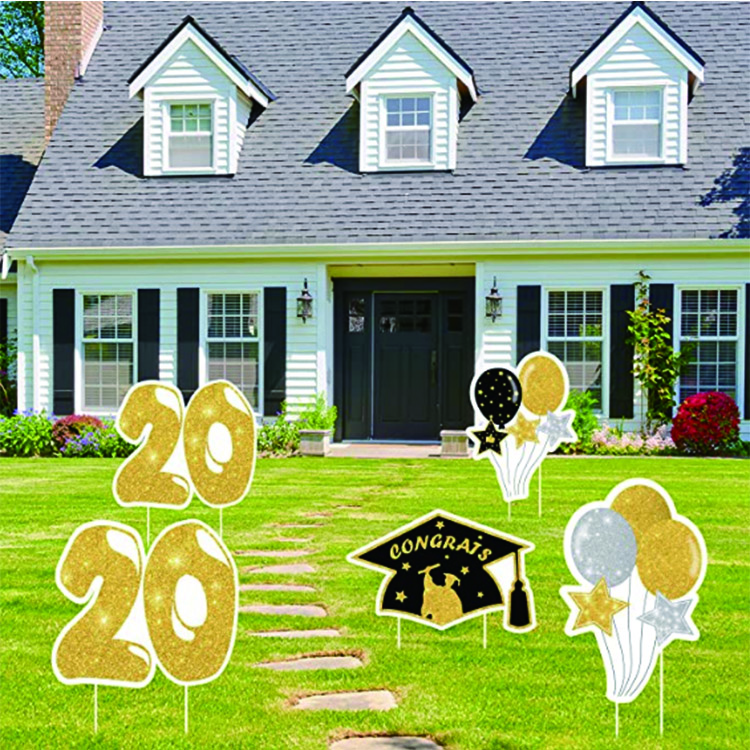 Lawn signs are also in demand for landscape companies. What could be better advertising than a similar sign if it is installed opposite a beautiful garden? And on this sign are the contacts of the professional gardener who created this landscape.
In addition, marketing agencies use lawn signs for various purposes and use in various promotions.
Security companies using lawn signs warn potential ill-wishers that this facility is under protection. This lawn sign is not only advertising, but also a good way to deter criminals.
General contractors and construction companies, use such 4-by-8-foot signs for information on zoning changes for a given site.
Lawn Signs: Product Features
In the vast majority of cases, 4 mm coroplast is used as the basis material for the manufacture of lawn signs. That is what provides the main feature of this type of signage – their low cost with quite acceptable quality, brightness, and visibility on the street.
A high-quality vinyl film with a pre-applied image is rolled onto a coroplast base.
The finished product weighs 1.87 pounds per square foot
Printing method: Eco solvent four colours. Print is weather resistant.
For short-term actions lasting up to 6 months, you can safely use lawn signs design without additional lamination. Lawn signs are quite enough to conduct an advertising campaign for a political leader, to make a congratulatory event for the newlyweds, or to announce a backyard sale.
Subject to lamination and proper care, the shelf life is more than 2 years.
The choice of material depends on the capabilities of the customer. Some people want to make Lawn Signs from expensive materials, but in the end, the costs are completely unjustified. Inexpensive materials, which as a result allow you to make more affordable products, do an excellent job of fulfilling their basic functions.
It is important that the quality of products are made for advertising purposes. The same ink for printing should be selected especially carefully to ensure the brightness and clarity of the applied images and labels. The technical specifications of the equipment used is equally important. In addition, in order to achieve the desired quality, you should make an order with specialists with experience in manufacturing advertising structures. With a responsible approach to the manufacturing process and using high-quality materials in compliance with the rules of manufacturing technology, you can ensure that Lawn Signs will be what the customer expects.
Сoroplast lawn signs
For the manufacture of signboards that are mounted on lawns, a material such as coroplast is often used. This is corrugated plastic. It is characterized by high strength. High moisture resistance is inherent in it. It is not easy to damage it, it steadily withstands strong blows. Its service life is many years. Coroplast does not apply to materials that deteriorate from moisture and rust appears on their surface. It can be painted. That is, various images can be applied to its surface using persistent inks and inks.
Coroplast allows you to make durable large or small lawn signs that are lightweight. The material has a low price, so it makes inexpensive signs. Coroplast products can be placed outdoors or indoors. They withstand all operating conditions. Due to the fact that the material does not deteriorate on the street, it is often used precisely for the manufacture of outdoor advertising.
Lawn Signs: Benefits
Lawn Signs are durable products that can withstand environmental influences. If necessary, they can be stored in a place convenient for you, and they will not deteriorate during storage. With direct use, after installation, you don't have to worry that advertising constructions will be damaged by rain, or snow. They don't need any protective equipment and do great outdoors.
Easy installation is another benefit Lawn Signs have. No special fastenings or the construction of a special place for their placement is required. All that is needed is to stick the wire rods into the soil of the land.
An additional advantage is low weight, as these lawn signs are made of vinyl or plastic – both light materials.
Lawn Signs are guaranteed to fulfill its advertising and informative function. Advertising and information are applied to them from two sides. Therefore, Lawn Signs can be considered constructions that carry a double informative and advertising effect.
Lawn Signs are inexpensive compared to other outdoor advertising. This is possible because they are made from inexpensive materials. Moreover, they are more effective in some cases than other outdoor advertising objects.
Mobility is another plus of Lawn Signs. If necessary, they can easily be transferred to any other place or completely removed for storage. You do not have to call a dismantling team; you can remove such signs yourself.
An advantageous feature of these products is the fact that they can be of different sizes. A variety of options are available when defining the Lawn Sign form. If you have a little money, then you can order a bright small lawn sign. With more free financial opportunities, you can order a large product.
How much do Lawn Signs cost?
Different products are different. To determine the cost, you need to answer the following questions:
What are the size and shape needed for the Lawn Signs?
What materials will the advertising structures be made of?
Do you need to develop a layout using the services of a designer?
Answers to the above questions affect the final manufacturing price of Lawn Signs.
Accordingly, we can say that the price of political lawn signs or signs that are used to advertise a business depends on the features of the press. If the sign will have a double-sided image using the full printing technology, then it will be more expensive, for example, signboards with single-sided and one-color printing of the same size.
If you decide to contact our company, you are guaranteed to save, as we offer more favorable prices than many competitors!
We have long been working in the production of advertising structures. Our experts are engaged in the manufacture of best lawn signs. We know how important it is to be able to order quality-made advertising signs. But often well-made advertising structures are very expensive. This is disadvantageous to many who have a small business. When a lot of money is spent on advertising, it takes a very long time to wait to earn more money. Long expectations often lead to financial problems.
We decided to find a profitable solution to the problem and offered our customers a profitable opportunity — order lawn signs, which are made of modern but inexpensive materials. As a result of our painstaking work to find solutions that are advantageous for our customers, we found a way to make our customers save money.
We offer lawn signs near me, which differ not only in the favorable price. Our products are characterized by:
Long service life;
Durability and a high degree of quality;
The brightness of images and graphic information.
Many of our customers were satisfied with their order. The quality of the designs completely suits them. They like our prices, which allows them to advertise their businesses at a low cost. In addition, we help with the implementation of lawn sign designs, if our client has doubts about what the finished sign should look like. This contributes to the fact that the number of our customers is growing every year of our work.
Turning to Quarter Cheaper Signs, you can order different advertising designs:
Free and fast lawn signs quotation
We will give you an instant price quote for your lawn signs!
Call now 778 697 2169! Remember – we will beat any prices!
Free lawn signs design
We will create the best bright and catchy eye design for your lawn signs for free!
Free lawn signs delivery
When you are ordering any type of lawn sign from our company, we do free delivery by regions: Coquitlam, Port Coquitlam, Port Moody, New Westminster, Burnaby, Pitt Meadows, and Maple Ridge!