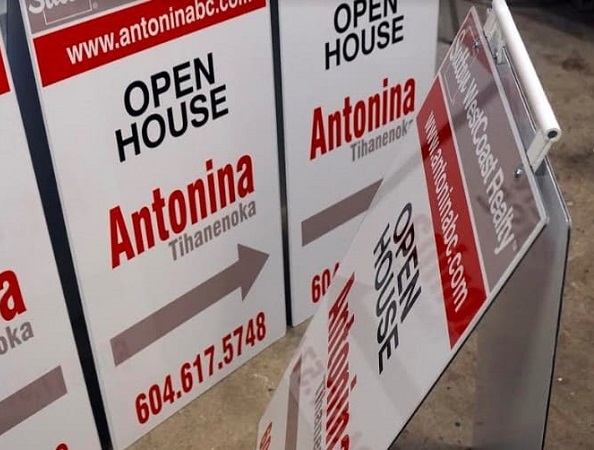 To date, one of the simplest and cheapest ways of outdoor advertising is to use a different type of A-frame signboards.
This sign is an advertising structure that contains a complex of necessary information, pictures, addresses and contact numbers. The information on A-frame signs can vary from the provision of services to the purchase and sale of real estate.
A-frame signboards are the Home business card of any company. A-frame sign boards for companies, organizations, shops and beauty salons are made in accordance with their corporate identity.
How much A-frame signs in Vancouver cost?
Average market cost of A-frame signs in Vancouver
View
Price A-frame signs without laminated
Price A-frame signs with laminated
A-frame signs 18"x24"
4mm Coroplast + metal
88,20 CAD
109,20 CAD
A-frame signs 24"x36"
4mm Coroplast + metal
167,70 CAD
193,90 CAD
Aluminum Composite Material (ACM)
A-frame signs 18"x24"
98,70 CAD
119,70 CAD
Aluminum Composite Material (ACM)
A-frame signs 24"x36"
185,40 CAD
211,70 CAD
Do you want to save up to 25% when ordering A-frame signs?
We produce cheap but quality custom A-frame signs. With Quarter Cheaper Signs, you can save up to a quarter of average market Metro Vancouver prices!
Our prices — the lowest prices for A-frame Signs
View
Price A-frame signs without laminated
Price A-frame signs with laminated
A-frame signs 18"x24"
4mm Coroplast + metal
67,20 CAD
83,20 CAD
A-frame signs 24"x36"
4mm Coroplast + metal
127,80 CAD
147,80 CAD
Aluminum Composite Material (ACM)
A-frame signs 18"x24"
75,20 CAD
107,70 CAD
Aluminum Composite Material (ACM)
A-frame signs 24"x36"
141,30 CAD
161,30 CAD
A-frame signage design (pillars)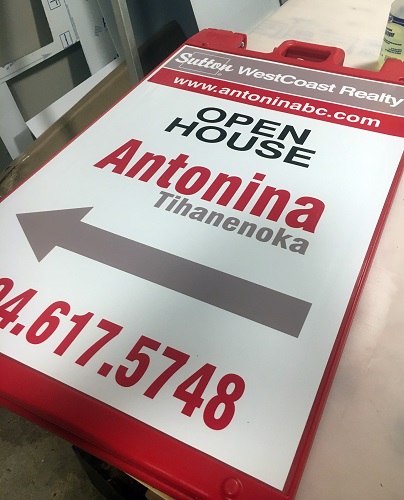 The design of the pillars is not so complicated. Represents a framework on a leg and information panels. In the manufacturing of a custom frame signs, in most cases, metal is used. Thanks to the metal frame signs, the design looks very strong and is resistant to all weather conditions. Such A-frame outdoor installations can be installed near the advertised object in any weather. At the end of the working day, the structure can be easily lifted and removed until the next working day. A-shaped frame signs are mainly made of metal or plastic. The best option can be selected based on the individual preferences of each customer.
Types of A-frame advertising signs:
One-sided and bilateral.
Street pillars T-shaped.
Cretaceous pillar, on which you can write in chalk and change the information as necessary. Basically, such advertising stands are used in cafes and restaurants.
Pillars made of wood.
Pillars in shape resembling the letter A.;
Non-standard pillars.
Pillars of paper clips.
Where is A-frame advertising signs used?
Advertising tripods are used not only for outdoor advertising, but also at various large events and exhibitions. Tripods can be installed not only on the street, but also inside any room. The most common place to install the pillars is the area nearest the entrance as this helps to attract potential buyers. This type of advertising is the most common not only because of its simplicity of design, but also its low cost.
Advertising tripods are very simple and mobile. Their mobility allows you to transfer the design from one place to another.
Tripods can be used repeatedly. If you need to change advertising, just order a new design of advertising and stick it on the surface of the frame.
These tripods can be equipped with additional plastic holders. Plasticate A-frames signs are generally used as crowd controlling barricades for construction areas, road closures, parades, and many other such purposes. Thanks to this option, you can easily change the image on A-frame sign stands. This is common in the field of banking services, where every day you need to change certain information. A-frame signs are also common in the restaurant business. From retail stores to shopping malls, digital A-frame sign has a place in property to subtly but effectively make an impact.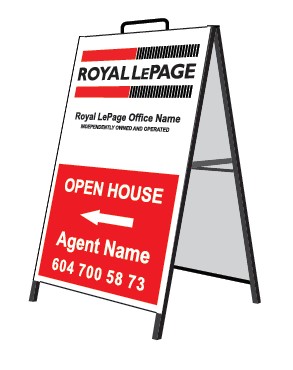 Tripods or pillars by type of execution are similar to the letter "A." That is why they are called A-frame pillars. A-frame signs are also widely used for advertising shopping centers and pharmacies.
With gusts of wind, very often, there is a problem with these signs as they are often blown away from the installation site. To avoid such situations, metal A-frames signs with springs can be used. This allows the tripod to swing in the wind, but at the same time is safe. In this case, you don't have to worry about having to remove the pillar from its usual place before every bad weather.
When it becomes necessary to remove the pillar, it is necessary to fold the sign with the image inward. This prevents its damage during transfer to another place or room. When the pillars are folded, they are very compact as the thickness of the sign is only 1 inch.
The advertising field is the carrier of all information. On the advertising field, you can use metal of lower density, plastic, polycarbonate, steel, aluminum or wood. All these materials have different properties, so they vary in cost.
The placement of information is the main part of the advertising product. The content of the advertising text should be short, but at the same time clear, easy to read and attractive. The appearance of each tripod is developed in accordance with the wishes of the customer.
It is very difficult to make such a tripod on your own, which is why entrepreneurs turn to specialists. You can install the tripod yourself or you can turn to specialists.
A-frame signs are single and double-sided; it depends on the volume and content of the advertisement. The standard height and size of A-frame sign board is about 1 meter and 24×36 respectively. Signs are designed for installation both outdoors and indoors. Tripods are mostly rectangular and semicircular.
Custom A-frame signs: Designs
Product design is an important thing to keep in mind that determines the effectiveness of the use of advertising structures. Therefore, you need to carefully consider the design. It is important not only to choose the right color scheme for an A-frame board, but also to solve the following issues:
How much information will be placed on the surface of the structure.
How will the information blocks be located.
What will these information blocks contain: text, photo, logo, etc.
What will the font of text and digital information be on the A-frame sign board.
The choice of each advertising design depends on several factors:
The scope of the customer,
The type of poster with advertising information.
The personal taste preferences of the customer.
Important tips
Information that will be displayed on the surface of A-frame business signs should be placed so that it can be clearly seen. Do not use fancy or bold fonts. This will give an effect that minimizes the effect of your advertising. A potential customer, even at a short distance, will not understand what is written on the surface of an advertising structure. As a result, the result of advertising will be zero new customers.
If you wish to advertise and use real estate A frame signs, use a proprietary color scheme. As a result, the advertising design will look stylish. Brand colors will help your business become recognizable. Do not use too many colors. Many colors often interfere with clear perception.
Plastic A frame signs can be one-sided or two-sided. If this is a two-sided structure, then often both sides have the same design and contain the same information. At the same time, some customers express a desire that different information should be applied on the surface of the structure. This is possible to do. Only in this case, the cost of the product will be slightly more expensive, since you will have to work on two boards separately.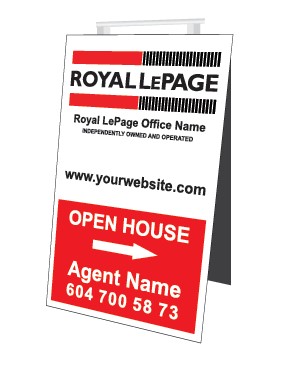 Advertising posters should be developed by the designer. The content of the billboard should be as effective as possible, and should interest potential customers. Each banner should be unique in its own way.
Advertising should contain the following characteristics:
Should display only the most basic information.
Must be in the original version.
Should be easy to read.
A-frame signs outdoor: benefits
Currently, A-frame signs printing are the most popular types of advertising and are the most profitable and effective way to advertise.
The following are advantages of tripods in comparison with other types of outdoor advertising:
A large number of persons pass by your advertising every day and it remains in their memory, Outdoor metal sidewalk A-frame signs, or sandwich boards, are ideal for promotions in those areas with heavy foot traffic and will attract the attention of passersby.
Sandwich signs are located closer to the places where a particular product is being sold.
You can instantly see rapidly changing information, for example, changes in the exchange rate, change of the menu in a café.
Very convenient during operation.
Quick deadlines.
Ready-to-use sandwich signs are resistant to any kind of wear, and move freely from one place to another.
The frame of the tripods is made of high-quality metal pipe. With the help of a pipe bender, a milling machine and a welding machine, they give the product the desired shape and appearance. The required pipe segment is bent and welded in such a way as to obtain the necessary shape for the future design. The finished product is completely painted with powder paint in the desired color.
The canvas on which the advertising poster is glued is made of galvanized iron or PVC fabric. Using a milling machine, they give the canvas the necessary dimensions and the necessary shape. After the designers have developed finished advertising, they print the necessary and finished image using a solvent plotter. The film is ready to work, with the help of knurling installed on the canvas advertising tripod. The surface of the web is laminated to give a gloss to the print and the remaining paper is fixed on the back of the canvas. At the final stage, the finished poster with advertising is mounted on a painted frame for displays. The canvas, which is ready at that point, is attached to the frame of the structure using a metal bracket. This design is durable and is not exposed to any atmospheric influences, temperature changes, and does not fade from sunlight. This device has a service life of 3 years.
Due to the fact that A-shaped advertising signs are mainly installed outdoors, their structures must be of very high quality. Materials must be moisture resistant and can withstand all weather conditions, whether it is the sun, wind, rain or snow. This is where; aluminum and steel A-frame signs come in to play.
A-frame signs can be not only of a standard form, but also have the form of any advertised item. The tripods are of good quality. They are able to look like new for a long time, and attract the attention of new customers. A small A-frame signs advertising installations near small shops are very relevant.
Metal or plastic A frame signs: Questions and answers
When ordering advertising designs that are restaurant A-frame signs or designed to advertise another business, customers often ask different questions. We will answer the most frequent of them.
Question: Are these advertising designs durable or not?
Answer: The service life of metal A-frame signs or products from other materials is long. This fact is due precisely to the fact that the designs are made of such materials that are specifically designed for outdoor advertising. For the application of advertising information, we use resistant ink. The result is products that last several years. Additionally, lamination can be used.
Question: Is an aluminum A-frame sign or a product made of another material of the same design able to withstand adverse environmental influences? Such as rain, wind, snow.
Answer: Yes. The materials used for the manufacture of these products are only those materials that are intended for outdoor advertising. In production, lamination technology is often used for additional protection, which helps to increase the protective properties of the finished advertising structure. Accordingly, in any weather, they will be able to maintain their original characteristics. In addition, the design features of the same a-frame displays suggest their installation reliability.
Question: Are the plastic or metal a-frame sidewalk signs easy to fold? Are they heavy?
Answer: The design of such advertising products is done so that, if necessary, they can be folded. They are stable enough to remain in the place where they were placed. If you need to fold and move A-frame signs for sale to another place, then one person can do so.  Of course, some effort will have to be applied, but it will not require the participation of several people.
Question: Are A-frame signs with letters and other similar signs distinguished by good stability?
Answer: Yes, it is certain. Their legs are in opposite directions from each other. This design feature helps ensure good stability. Even with winds, such products stand in the place where they were installed. Of course, with very strong winds it is worth folding and removing them, since even bulky structures cannot resist the strength of a strong wind.
Question: Can I order A-frame signs cheap?
Answer: If you decide to contact us, then you can order inexpensive advertising designs, one-sided or double-sided. Our products are of high quality, but we try to make advantageous offers to our customers. We have a system of discounts. As a result, you can spend less money on doing outdoor advertising.
Turning to Quarter Cheaper Signs, you can order different advertising designs:
Free and fast A-frame signs quotation
We will give you an instant price quote for your sandwich sign!
Call now 778 697 2169! Remember – we will beat any prices!
Free A-frame sandwich design
We will create a bright and catchy eye design for your sandwich signboard for free!
Free A-frame sandwich signs delivery
When you are ordering any type of sandwich sign from our company, we do free delivery by regions: Coquitlam, Port Coquitlam, Port Moody, New Westminster, Burnaby, Pitt Meadows, and Maple Ridge!