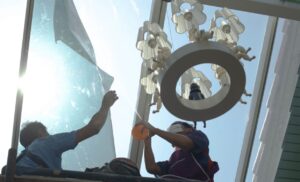 Window film installation – cheaper than anywhere else!
Do you want to save up to 25% when ordering film application for windows?
We are ready to suggest for you cheap but quality window film installation. With Quarter Cheaper Signs, you can save up to a quarter of average market Metro Vancouver prices!
Modern architectural film on windows is a high-tech material with a number of unique properties, parameters and characteristics. Gluing films on windows in architecture and construction has been used since the middle of the last century, helping people make simple decisions in complex engineering problems. It has an application in various fields related to the glazing of buildings and structures. These can be private apartments and country houses, offices and shops, cafes and restaurants. Any commercial and industrial facilities can also benefit, such as car dealerships, shopping centers, exhibition or sports halls. Wherever there are windows, there is a place for architectural films. We have been working with window films for more than 10 years. Our experts monitor the latest film market and study the innovations of the polymer industry. What we offer our customers today is time-tested and proven by experience. Working with us means you get the quality of modern material and service for its installation.
Decorative film – coziness and comfort
Decorative film gives individuality to the interior of the room, decorates it, and creates a feeling of coziness and comfort. A wide range (15 types) will help you choose the option that suits you and your windows.
If you want to protect yourself from prying eyes, then a matte film will do it perfectly. To emphasize the windows, choose a film with a picture to create an unusual design decision.
It is not necessary to glue the film on the windows. You can decorate cabinet doors or mirrors with it too. Tired of the scorching rays of the sun? Furniture and wallpaper fading from ultraviolet light? Decorative film will reduce the intensity of the rays and protect objects from light.
Range: There are 15 species, among which are transparent, translucent, matte, white and black, with and without a pattern.
Scope of application: Application can be on glass and plastic surfaces (windows, doors, partitions). Use decorative films in apartments and private houses. Decorate shop windows and showrooms. Create comfort in offices, cafes and restaurants.
Heat reflecting film – warm in winter and cool in summer
This is an energy-saving film that will allow you to significantly reduce heating costs in the cold season and air conditioner costs in the heat. Heat loss occurs not only through window frames, but also through glass. Therefore, if you installed airtight double-glazed windows, order a heat-reflecting film to achieve a comfortable indoor climate at any time of the year.
Range: There are three types: light blue, gray and transparent. Reflection of thermal energy is from 60 to 75%. Transmission of visible light is from 30 to 75%.
Scope of application: Application can be on glass surfaces that are in direct contact with the external environment. These are, first of all, windows in residential, commercial and industrial buildings.
Armor film – reliable protection
This is a protective, shockproof film that can impede the penetration of any intruders into a room. It will take them a lot of time and effort to cope with our armor film. It resists blows from stones, balls and other heavy objects.
If the window is broken, the film will prevent the fragments from flying and injuring others. In addition, it also performs decorative functions. The protective film replaces the metal grilles on windows, which do not look aesthetically pleasing and violate fire safety standards. The armor film is transparent, durable and does not require special care.
Range: Transparent, with four protection classes, and a thickness from 112 to 646 microns.
Scope of application: Application on glass surfaces in residential, public and commercial buildings. This will be especially applicable for apartments on ground floors. Protect your car windows, storefronts, cafes or museums with shockproof film.
Sun protection film – no ultraviolet radiation
Sun protection film prevents harmful UV rays from entering the room. Thus, it creates comfortable living conditions not only for humans, but also for plants and animals.
Tired of sun glare on your TV or computer screen, which interferes with work and rest? The film eliminates this discomfort. If you want to protect your room from prying eyes, then a mirror film will reliably hide you from others while retaining visibility from the inside.
Protect your favorite plants, furniture and wallpaper from the scorching rays on a sunny day, which can be harmful to them. The film will not let them lose their original appearance. In addition, you will significantly save on electricity bills because on a hot day, the room will be kept at a cool temperature, and on a cold day, it will remain warm for a long time.
Range: Sixteen species with different visible light transmittance from 5 to 62% and reflection of solar energy from 42 to 92%.
Scope of application: Can be applied on flat, glass surfaces in rooms for various purposes, but mostly on windows facing the sun.
Free and fast windows film installation quotation
We will give you an instant price quote for your windows film installation!
Call now 778 697 2169! Remember – we will beat any prices!
Free windows film installation design
We will create a bright and catchy eye design for your windows film installation for free!
Free windows film installation delivery
When you are ordering any type of windows film installation from our company, we do free delivery by regions: Coquitlam, Port Coquitlam, Port Moody, New Westminster, Burnaby, Pitt Meadows, Maple Ridge!