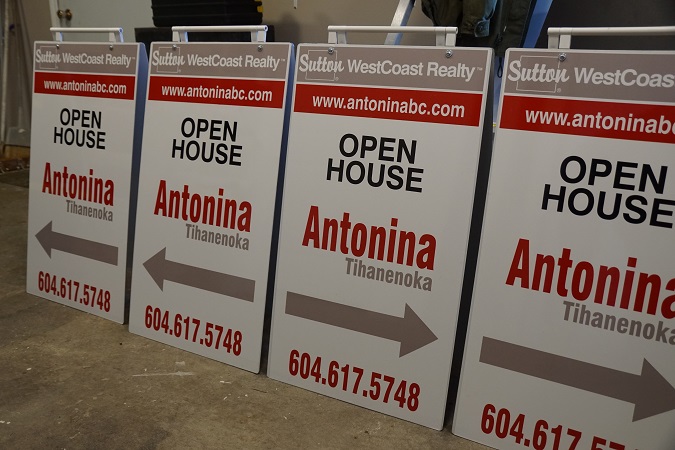 How much Sidewalk Signs in Vancouver cost?
Average market cost of Sidewalk Signs in Vancouver
View
Price Sidewalk Signs without laminated
Price Sidewalk Signs with laminated
Sidewalk Signs 18"x24"
4mm Coroplast + metal
88,20 CAD
109,20 CAD
Sidewalk Signs 24"x36"
4mm Coroplast + metal
167,70 CAD
193,90 CAD
Aluminum Composite Material (ACM)
Sidewalk Signs 18"x24"
98,70 CAD
119,70 CAD
Aluminum Composite Material (ACM)
Sidewalk Signs 24"x36"
185,40 CAD
211,70 CAD
Do you want to save up to 25% when ordering Sidewalk Signs?
We produce cheap but quality custom Sidewalk Signs. With Quarter Cheaper Signs, you can save up to a quarter of average market Metro Vancouver prices!
Our prices — the lowest prices for Sidewalk Signs
View
Price Sidewalk Signs without laminated
Price Sidewalk Signs with laminated
Sidewalk Signs 18"x24"
4mm Coroplast + metal
67,20 CAD
83,20 CAD
Sidewalk Signs 24"x36"
4mm Coroplast + metal
127,80 CAD
147,80 CAD
Aluminum Composite Material (ACM)
Sidewalk Signs 18"x24"
75,20 CAD
107,70 CAD
Aluminum Composite Material (ACM)
Sidewalk Signs 24"x36"
141,30 CAD
161,30 CAD
Sidewalk signs: What are they?
In recent times, ads on road barriers have increased in popularity. They are usually placed on special modules that have built-in lighting. These structures are located at eye level of the driver and passenger, and their dimensions ensure that the message will be noticed. Advertising on road barriers has one undeniable advantage: due to the compactness of the carrier, it can be installed in places where it will not be possible to place more bulky billboards – for example, in Central urban areas, where you cannot spoil the historical appearance of the area. Ads along motorways can also be placed on billboards. The classic billboard measures three meters by six meters – this is enough for potential customers to get a good look at the ad. In some cases, the size of billboards placed along busy roads may vary. This is done for the reason that a person who moves must perceive important information in a small, second time interval.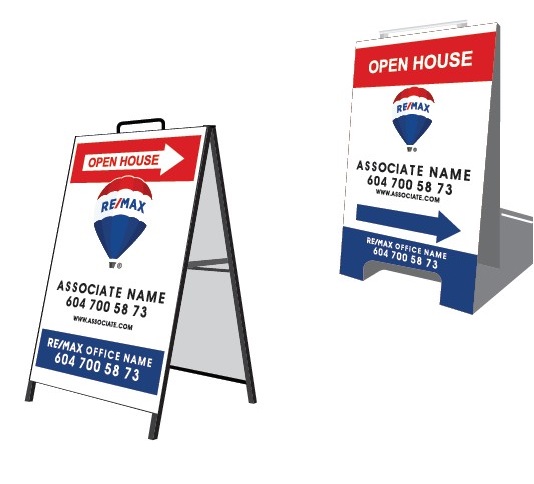 Sidewalk open sign boards are a great way to attract the attention of future customers to your business. If you install such sidewalk stands board in the way of people, they are more likely to become potential customers.
Outdoor sidewalk signs are a great option for advertising, especially effective for small businesses. They are portable constructions into which a bulletin board with an announcement or a poster with information to convey to customers is inserted, and this poster can always be changed, if necessary. Custom sidewalk signs can be used year-round, they can be placed on sidewalks or pedestrian paths, that is, where a person, whilst walking or passing by, can see the advertisement.
Sidewalk signs: What are they for?
Outdoor Sidewalk board advertising, as you know, has existed for a very long time. Despite the long century of outdoor advertising, it is relevant for advertising modern goods and services. In European countries, the cost of it is quite significant. In terms of costs, an outdoor sidewalk advertising sign is next to the media.
In large cities, outdoor advertising includes several objects that can help develop entrepreneurial activity, present a new or updated product or service and attract many new customers:
Shields of all sizes and shapes
A variety of light advertising installations
So-called "roof installations"
Electronic boards and newspapers
Video walls
Thumbnails
Decorative street clocks
All kinds of light boxes on poles.
Signs
Installation and extensions over the carriageway of streets
Kinematic installations
Spatial installations
Steles
Outdoor advertising at the stops of municipal land transport
Outdoor advertising in sports facilities
Outdoor advertising in public transport
Studies show that outdoor advertising objects are promising as a means of advertising distribution, but also serve as objects of urban architecture.
Two outdoor advertising are options that can cause the desired effect:
Widescreen panels along highways, and;
Advertising on transport (transit advertising) – inside and outside the cabin of a bus, tram, trolley bus, or subway car.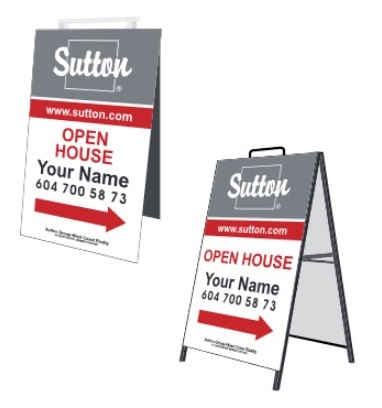 Some other types can be seen not only in central parts of the city, but also found on the outskirts of the city.
Sidewalk Sandwich board signs have a very special feature. This is an effective way to declare yourself and your business. If you have a small business, for example, you have a flower shop or cafe, then it is worth taking advantage of the outdoor advertising opportunities, and once again, informs the people around you what you can offer them.
A human stream is constantly flowing past your business. People will not come to you to find out if you can offer them interesting things. But if you install Sidewalk signs in their path, they will subconsciously learn about you and your business. In addition to a sign that indicates that the business is in a particular place, it's great if you install special advertising structures on the sidewalk. It can be a sidewalk A-frame or Sandwich Board signs. Both types of outdoor advertising will help convey interesting information to customers.
In our company, you can order different types of advertising structures. We have an extensive collection of objects (metals, plastic) made in a variety of styles, with additional elements that simplify the process of operating advertising structures. There are models that are suitable for any industrial facilities. We can say that these are non-standard Sidewalk signs. Any options presented by us are guaranteed to attract people's attention, which is critical for the development of any business.
Sidewalk signs for businesses have many advantages. They help to enlarge the business, attracting new customers. It is important to understand that many people buy the temporary sidewalk stickers product not because they really need it, but just like that, under the influence of the moment. It is clear that such human behavior is a great way to increase your profit. Of course, you should not forget about the quality of the proposed product, if you want the business success to last long.
How does it work?
In today's world, business development is inextricably linked to advertising. For a business to flourish, the advert has to declare itself: brightly, unconventionally and openly.
Elements of outdoor advertising, which include:
Pillars
Volumetric letters
Visors
Signboards
Posters
City lights
Billboards
Various designs
Outdoor advertising is made with backlight, maybe neon, showcases and visors, as well as various lighting installations on buildings. On the street of the metropolis, there are often large LED displays with running lines. This makes it possible to engage and promote the brand, make it recognizable and expand the target audience.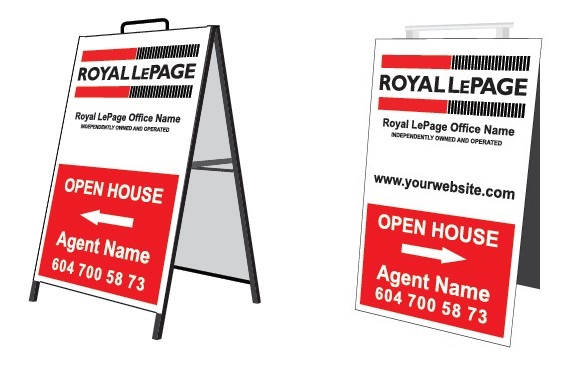 Of course, attractiveness and aesthetics are extremely important for outdoor advertising. It should attract more customers. The purpose of outdoor advertising is to create and promote the brand image. Every day, city residents are faced with advertising brightness and unusualness.
Outdoor advertising can create a positive attitude towards a particular brand, organization or product. But you need to pay due attention to the quality of execution of this advertisement.
It is necessary to carefully consider several important points:
Design
Short, but catchy text
High-quality installation
Outdoor advertising widely disseminates information about upcoming promotions, sales and discounts. Outdoor advertising often contains brief information about the location of the company or store.
Outdoor advertising required to solve three basic business tasks:
Raise company image.
Help customers find (for example, in a shopping and entertainment center).
To attract the attention of potential buyers to products, by the use of media.
This is the main condition for effectiveness, so that its contents will be remembered by people.
Why do we need sidewalk signs?
It seems that the answer to this question is obvious, as they have long become an integral part of companies and stores. What is the "right sign" and how does it help increase sales?
Advertising is obliged to make a profit and justify the money invested in it. The original design will make it memorable and vibrant. High-quality materials used in its manufacture will help it to serve as long as possible. The mark performs the same functions as the packaging of products, and in its manufacture, the same principles of choosing the color and shape are used as in the development of packaging.
Additional advertising for small businesses can be done through:
Restaurant sidewalk signs
Salons sidewalk signs
Flower shops sidewalk signs
Sinks
And many other companies
There are folding sidewalk sign advertisements on the windows, doors of your store and indoors. It is possible that you placed advertisements using signboards in different places or ordered advertising on buses and in the print media. But you can additionally advertise using Sidewalk signs.
Sidewalk signs are ads that can increase your profits. They have a better effect on a person's perception than advertising on display windows. The reality is that potential buyers often do not perceive ads placed directly on retail facilities. In most cases, they look the other way. And it is Sidewalk signs that could be in the way of their eyes. Such advertising objects, as practice shows, always give the desired effect not only in large cities, but also in other settlements. The main thing is that many people move along the sidewalk.
Sidewalk signs are a kind of marketing tool. How does it work?
A man walks from home to work every day.
Two donut shops appear along the way. He goes and the smell beckons him to come in and enjoy the delicious sweetness.
The store that ordered the pavement sign from us put up a sign closer to the pavement on which this person walks. Where do you think he'll go?
Another example:
Every day the family takes the child to school, and constantly stands at traffic lights in traffic jams.
If you put a sidewalk sign in the store opposite, the family will notice it.
Sidewalk signs are diverse in their external design. Accordingly, there is a real opportunity to choose the right kind for your business style. If you choose a sidewalk frame sign model, the content of which can change in accordance with the need to make an advertisement for a particular object, you will save significantly. At the right time, you can place ads that are relevant to you. You will always have the opportunity to express your imagination and arrange advertising according to your different design ideas.
The sign on the board also gives your store a charming look and provides a very good psychological advertisement.
Main benefits are:
The size. Large objects are easily noticed by passers-by and drivers, because advertising will not go unnoticed.
Certain types of outdoor advertising may be backlit.
Easily accessible information. Outdoor advertising. Potential buyers do not have to buy a particular newspaper.
Increased frequency of exposure to consumers. All you need is everything you need to get to work and back, near your favorite store, etc.
An effective advertising layout, in most cases, at the cafe window.
The task of the middle and upper classes. The company only has a few billboards.
Photographic information (strong visual effect). Most people are visual learners. They remember images more easily than sounds and touches, because it is the visual presentation of information that will be much more profitable than ordering ads on the radio.
Fast sales growth. According to statistics, the presence of a billboard or light box at several points in the city increases the number of customers by several times.
Customers will find you. There will be people who will become your customers. And it will become possible, thanks to advertising constructions made by our company.
Plastic or metal A frame sidewalk signs: Frequent questions
Question: Are these advertising designs durable products?
Answer: Yes, if made of high-quality materials that can withstand the outdoors.
Question: Do they deteriorate from moisture?
Answer: No. Sidewalk sign letters are made using special printing technology and very durable inks. If necessary, lamination can be used.
Question: Can sidewalk A frame signs be damaged by the wind?
Answer: In light and medium winds, these products do not lose their stability due to their design features. With hurricane level winds, even very bulky, well-fixed structures cannot withstand the wind. But if it is impossible to remove firmly fixed advertising, then folding advertising structures can always be folded and carried away to a protected place.
Question: Can I order church sidewalk signs from you?
Answer: Yes. We make products for many different types of businesses. We are contacted by various non-profit organizations, and we are pleased to carry out their orders.
Question: What affects the price?
Answer:  The cost of a sidewalk sign board may vary. The final price is affected by several factors. The type of material that will be selected for manufacture has an impact on the final price. Printing features can affect the final cost as well. If we talk about sizes, the often-ordered option is 24×36.  You can order a product with a smaller or larger size. Accordingly, the price will be different.
Question: Can I order cheap sidewalk signs?
Answer: Yes, you can contact us. We have a system of discounts. Our proposals for the manufacture of advertising structures are based on making our customers satisfied. Our prices are 25% lower than the average for the advertising market. Order sidewalk sandwich boards from us and you will save your money and get high-quality, reliable and durable products.
Turning to Quarter Cheaper Signs, you can order different advertising designs:
Free and fast sidewalk signs quotation
We will give you an instant price quote for your sidewalk signs!
Call now 778 697 2169! Remember – we will beat any prices!
Free sidewalk signs design
We will create a bright and catchy eye design for your sidewalk signs for free!
Free sidewalk signs delivery
When you are ordering any type of metal or plastic sidewalk signs from our company, we do free delivery by regions: Coquitlam, Port Coquitlam, Port Moody, New Westminster, Burnaby, Pitt Meadows, and Maple Ridge!