We are pleased to offer Sutton realtors the most "cost-effective" signage prices in Vancouver Metro Area.
On average, our prices are lower by a quarter than the market.
We offer a "package" for beginner Sutton Group realtors.
We do not recommend you anything extra!
Start with the essentials:
Signboard – sandwich "Open House" – 2 pcs. – 160CAD
Sign "Condo For Sale" + lamination – 2 pcs. – 63CAD
Vertical sign "House For Sale" – 2 pcs. – 50CAD
Directional (Intersection) signs + lamination – 2 pcs. – 46CAD
TOTAL: 319CAD
When you ordering this package for 319CAD or more, you save more than 100CAD – a quarter of the average market price for this set of signs in the Greater Vancouver market.
But that is not all! Place your order before April 1, 2020 and receive any signage from our company in the amount of $50 for free!
Quarter Cheaper Signs – you can always save 25% of the price!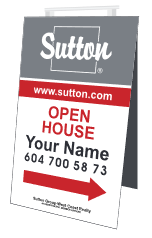 OPEN HOUSE ALUPANEL SIGNS
Lightweight and reliable performance!
Long service life! During transportation, the A-board is formed by "images inward" – which avoids damage to them.
Laminated Alupanel + handles:
Regular – 18″X24″: 80CAD
Large – 24″X36″: 150CAD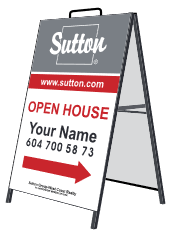 OPEN HOUSE COROPLAST SIGNS
Ageless "classic"! Reliable metal frame. Instant changes of images!
Laminated Coroplast (2 pc) + metal frame:
Regular – 18″X24″: 75 CAD
Large – 24″X36″: 140 CAD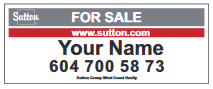 CONDO "FOR SALE" SIGN
8″H X 24″W – 4MM COROPLAST + GROMMETS
At Coroplast:
q-ty 1-5 — 24CAD ea
q-ty 6-20 — 14CAD ea
g-ty 21+ — 11CAD ea
Plus Laminate
(Protective Gloss Film) – 7.5CAD ea
For Making on Alupanel
(Aluminum Composite) – 12CAD ea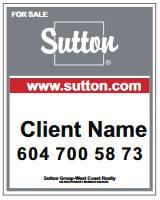 VERTICAL "HOUSE FOR SALE" SIGN
30″H X 24″W – 4MM COROPLAST + GROMMETS
At Coroplast:
q-ty 1-5 – 25CAD ea
q-ty 6-20 — 15CAD ea
g-ty 21+ — 13CAD ea
Plus Laminate
(Protective Gloss Film) – 12CAD ea
For Making on Alupanel
(Aluminum Composite) – 25CAD ea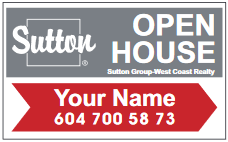 CLASSIC ARROWS – DIRECTIONAL SIGNS
16″H X 24″W – 4MM COROPLAST CLASSIC ARROWS
At Coroplast — 13CAD
Plus Laminate
(Protective Gloss Film) – 10CAD ea
For Making on Alupanel
(Aluminum Composite) – 15CAD ea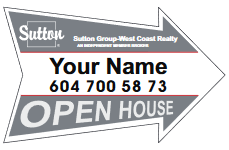 CUT OUT ARROWS – DIRECTIONAL SIGNS
14″H X 24″W – 4MM COROPLAST CUT OUT ARROWS
At Coroplast — 16CAD
Plus Laminate
(Protective Gloss Film) – 8CAD ea**Stakes sold separately