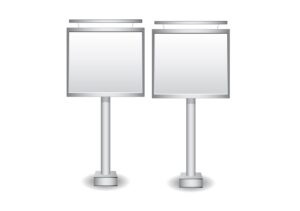 Pylons signs – cheaper than anywhere else!
Do you want to save up to 25% when ordering pylons signs?
We produce cheap but quality pylons signs. With Quarter Cheaper Signs, you can save up to a quarter of average market Metro Vancouver prices!
Pylons signs: what is it?
Pylons signs – advertising constructions. Often, they can be seen near roads. Such advertising is an excellent solution for promoting any business. These signs are rather big in sizes. Advertising is visible from afar. If Pylons signs have a bright, catchy design, then attracting the attention of potential customers is doubly guaranteed.
Design features
Pylons signs have:
One or two supports that are firmly fixed in the ground, usually using cement mortar,
The frame's upper part is made of aluminum or steel, and
A rigid or flexible surface that is fixed in the frame.
Pylons signs can be lit using lamps, such as LEDs. Models of such designs may not have a backlight.
What are they used for?
In most cases, Pylons signs are made in a corporate style. Typically, these structures indicate that the company to which the structure belongs is located nearby. This is a great way to remind yourself, and unobtrusively.
Pylons signs: price
The price of such advertising structures may be different. The cost of Pylons signs depends on many points:
Dimensions of the structure,
Type of materials that are selected for manufacture,
The presence or absence of backlight, and
Design features.
It is important that the Pylons sign is made from high quality materials. Only in this case will it be possible to produce a structure that will last for many years and perform its functions without losing its original characteristics.
Important! Pylons sign must be firmly fixed during installation. Otherwise, the structure will not withstand strong winds and will fall. Since this is a heavy construction, its fall can cause injuries to people passing by, as well as damage to property, for example, nearby cars.
Free and fast pylons signs quotation
We will give you an instant price quote for your pylons signs!
Call now 778 697 2169! Remember – we will beat any prices!
Free pylons signs design
We will create a bright and catchy eye design for your pylons signs for free!
Free pylons signs delivery
When you are ordering any type of pylons signs from our company, we do free delivery by regions: Coquitlam, Port Coquitlam, Port Moody, New Westminster, Burnaby, Pitt Meadows, Maple Ridge!