Get neon signs cheaper than anywhere else!
Do you want to save up to 25% when ordering neon signs?
We produce cheap but quality flexible neon signs. With Quarter Cheaper Signs, you can save up to a quarter of average market Metro Vancouver prices!
Neon light signs: What are they?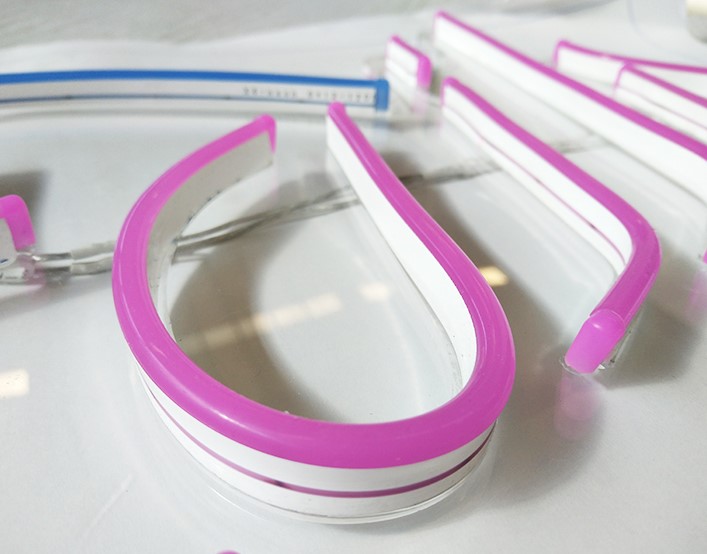 Signs with neon lights are made using various technologies. Outdated technology — the use of glass tubes that are filled with luminous gas. Another modern technology is LED. LEDs have many advantages, which we talk about below. We use flexible LED neon. What is it?
Material — a tape with LEDs in a protective sheath. The shell is made of silicone or durable PVC. It allows you to evenly distribute the glow of the LEDs. Light sources are not visible. Our eyes perceive only a holistic backlight over the entire surface of the tube. LEDs can emit single-color or multi-color light. The result is custom neon signs that are different in color. In addition, such material is easy to work with. It can be bent at different angles. As a result, you can make ads with the most unusual design. At the same time, the tubes do not overheat. No need to worry that the LED design can cause a fire.
What are illuminated signs for?
The backlit signs we offer are a great advertising tool. As you know, good advertising attracts maximum attention. Custom led neon signs are able to attract the attention of potential customers at any time of the day, even when it is dark. In addition, they can serve as a beautiful decoration of the interior, for example, a bar, where to create a certain atmosphere you need to dim the lighting of the room.
It is especially effective to use luminous advertising to promote a non well-known brand. A person reacts faster to what stands out from the general background. Luminous flux attracts attention. The brain remembers what the eyes see. And even if a person is not immediately ready to become a client of a new business, then in the near future they will definitely become one. At least, if necessary, they will share information with those who will be interested in business. They will remember the advertisement.
Illuminated signs: What are they used for?
Signs with LED backlight just can not be overlooked. This advertising option is considered one of the most effective marketing moves. Their appearance is aesthetically pleasing, which positively affects the formation of a spectacular image of any business. With the help of glowing signs it is easy to increase your reputation, make it clear to customers that the business has all the opportunities to interest them. If the company has set a goal — to make effective advertising, then with the help of signboards with backlight it is guaranteed to achieve such a goal.
If you decide to order neon signs in Vancouver, you have made the right decision. Businessmen in different countries of the world have long been using the opportunities of LED advertising. The number of people who want to have precisely luminous signs for advertising their business continues to grow every year. Many companies use this opportunity. A backlit sign works the same way wherever they can be installed. Of course, a sign that shines immediately catches the eye. Materials for its manufacture have characteristics that allow the use of an advertising design not only indoors, but also outdoors. This is an important factor in deciding in favor of led products.
As we noted above, luminous advertising can be used for interior decoration. Neon wall lights are great for this purpose. They are guaranteed to become a noticeable interior decoration. If you need to draw attention to the store, solarium, salon, or a business in a large shopping center, then these signs will serve as an excellent tool to attract customers. The main thing to remember is that you should choose the right location for the luminous structure, as well as think through its design. Design is important when placing luminous advertising in the open air.
If you want to use the capabilities of the luminous structure to 100%, we recommend choosing shaded areas, since it is better placed on a contrasting background. It is undesirable that other light sources are located nearby. In such conditions, the sign will be clearly visible in all its details. These rules should be followed not only when placing structures with lighting in the room. If you want to get an effect outside, not only in the dark, but also during the day, then such rules should be remembered.
Neon sign boards: Who needs them?
Advertising is necessary for any business, whether that be a well-known one or one that has recently appeared on the market. Even a well-known brand has to advertise new promotions or products. To attract attention to the event, glowing signs will help. Due to the variety of design possibilities, there is always the opportunity to make an advertisement that will correspond to the subject of marketing promotion.
LED neon bar advertising is very popular, as well as one that is made for businesses working in the evening and at night. Therefore, club owners often take advantage of luminous advertising to attract new customers. Backlit advertising helps regular customers navigate.
We noted that with proper placement, you can achieve the desired effect from the work of LED advertising, even during the day. Knowing this, owners of different businesses use luminous structures. They can be seen in front of shops, cafes, restaurants, beauty salons, etc. Therefore, a very obvious conclusion can be drawn. Effective custom neon signs are needed for any business interested in attracting the attention of customers and in increasing profits.
Separately, it must be said that backlit advertising is a powerful marketing tool that will help make any brand recognizable. This feature is worth using if your business has started recently. The memory of the person who sees the light advertising of the brand will immediately capture the information. Later, when a person sees your brand again, they will automatically remember the previously seen sign. Thus, the business will be recognized.
Custom neon lights: Benefits
High degree of energy saving.
Long service life.
Protection against possible damage.
Simple and intuitive operation.
High fire safety.
Possibilities of diverse design.
Operating temperatures range from -40 to +50.
Simple installation and connection.
Lower price than traditional neon signs.
Consider the benefits of LED neon signs in more detail.
If we talk about important advantages, then, in the first place, it is necessary to include high energy efficiency. It is for this reason that LED technology has become more popular. It allows not only to produce a fantastically beautiful and noticeable, effective advertising sign. This technology makes it possible to save energy. It is known that LEDs consume very little power. Accordingly, a backlit advertising sign is decently cheap to install.
LED neon lights work for much longer than traditional neon. This is possible thanks to the features of the technology used. In addition, it is worth noting the high reliability of the LED design. The containment, although flexible, is very durable. It is very difficult to break it, in comparison with glass neon tubes. The shell tolerates high and low temperatures. It does not lose its strength properties in heat and frost. Since they consume little power, the LEDs do not heat up. This means that a fire due to overheating will likely not happen.
Any signs, including neon wall signs, which are made using LED technology from flexible tubes, are simple and simple to operate. Installing them is as easy as using them. Of course, we recommend using the help of specialists if you do not have knowledge regarding the connection of electrical equipment. But such signs do not have much difficulty when connecting. Therefore, the cost of attracting specialists will be minimal.
Design opportunities are truly wide. You can make blue, green or pink neon signs, and also use several colors at once. The material for making the backlight is flexible. Therefore, it is possible to experiment with the shapes and design of the luminous elements of certain details of the advertising sign.
As for the price of LED advertising, it is much less than the price of traditional neon signs. The difference in price is affected by the cost of materials used for production, including the costs of installation and operation, as well as possible repairs. All together it turns out a substantial amount, which is several times higher than if you decide to order LED advertising.
Additional advantages
Neon sign boards have a soft glow. This feature of LED advertising blends harmoniously into the environment. Other light sources are characterized by high sharpness. The luminous flux is evenly distributed throughout the tube in which the LEDs are located. You will not see individual points. Your eye will see an element that glows without flaws.
A lack of noise is another plus of LED technology. Signs that glow using LEDs do not buzz. If you compare them with other lighting designs, you can hear noise. Why? Because their functioning requires high voltage. No noise is an important factor. Very often, backlit advertising is mounted on the first floors of residential buildings. Above are residential apartments. Neon signs work at night. And at night, as you know, sources of increased noise should be excluded for the peace of those who live in apartments above. If you use custom neon with LED technology, you will not need to worry about causing inconvenience to residents.
Design development
Any store or any other business begins with a sign. When a potential customer looks at the sign, they create the first impression of the company. Therefore, you need to carefully create a designer layout, taking into account such features as lighting. You must choose the right;
In addition, you need to remember the architectural features of the building, on the facade of which a neon sign will be installed. If a sign needs to be made for indoor use, then the features of the interior design should be taken into account. In addition, you should consider:
Future location;
The presence of shop windows, their sizes;
The degree of illumination of the sign;
Remoteness from sidewalks.
The form and size of the advertising structure depend on these points. There can be many options, ranging from a modest sized sign to a large sized sign. It all depends on related factors.
Design Tips
To create an effective sign, as we have said, it is necessary to develop a design. To achieve maximum efficiency from a future sign, some rules should be kept in mind.
As marketers advise, the sign should carry understandable information. In this case, the size of the business should be taken into account. If the brand has not existed for long, then a clarification should be made. If the brand is known on the market, then the name of the brand itself is enough for a sign. If a custom LED neon sign is ordered for a new business, then it is worth attributing, for example, the word "clothing" to the brand. Then the potential customer will understand what a particular store is offering.
Marketers also advise using some visual elements when creating signs. For example, if you are the owner of a childrens' cafe, then next to the name of the cafe you could place, for example, an image of some funny character. Of course, you should remember the corporate identity. If you already have a corporate identity, then its features should be present in the design of the sign.
The color scheme is especially important in the manufacture of neon sign boards. But the materials that are used to make such signage allow you to create designs with backlighting of the desired color.
Therefore, you should not worry about the capabilities of the technology itself. It is even more important to consider the number and saturation of colors before production. This applies to both the backlight itself and the design elements of the sign itself.
Prices
How much do illuminated advertising structures cost? Is it possible to order cheap neon signs and not miss out on quality?
Let's start with what the cost of such products is based on. The price of LED structures is affected by:
The size;
Design features;
The amount of materials used.
Accordingly, if you order a small sign, it will be much cheaper than a large sign.
The cost of LED advertising products starts at about $150. Some of our competitors offer designs that are too expensive. We try to make our customers profitable offers. We have a system of discounts. Therefore, in our company you can always order an advertising LED design at a more pleasant price — 25% cheaper than our competitors.
Turning to Quarter Cheaper Signs, you can order different advertising designs:
Free and fast neon signs quotations
We will give you an instant price quote for your neon signs!
Call now at 778 697 2169! Remember – we can beat any prices!
Free neon signs designs
We will create a bright and eye-catching design for your neon signs for free!
Free neon signs deliveries
When you are ordering any type of neon signs from our company, we do free delivery by regions: Coquitlam, Port Coquitlam, Port Moody, New Westminster, Burnaby, Pitt Meadows, and Maple Ridge.