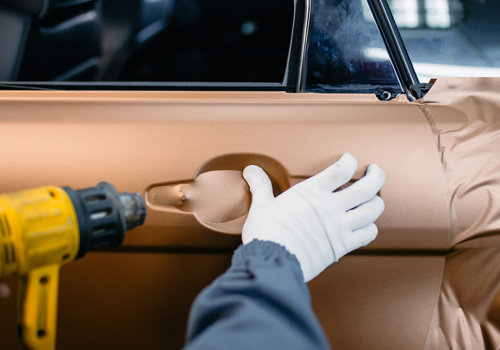 Car wraps – cheaper than anywhere else!
Do you want to save up to 25% when ordering a wrap for your car?
We produce cheap but quality vehicle wraps. With Quarter Cheaper Signs, you can save up to a quarter of average market Metro Vancouver prices!
Almost every company, whether it is a new business or a large enterprise, has a corporate vehicle. Sometimes it's just a few cars used by employees, and sometimes it's a whole fleet of vehicles with different purposes and costs. The use of these vehicles can, of course, contribute to the success of your business. However, these cars can be even more beneficial for your business when you can use them as a means of mobile advertising. In addition, you will not have to pay or agree with someone about the provision of these advertising spaces! After all, this is your car! More and more often, we can see how enterprising businessmen are advertising their company or their services on their vehicles, thereby expanding their circle of potential customers and popularizing their brand with the help of car wrap. You can place an advertisement in the form of a vinyl wrap car on your own car.
Please note that it is advisable to use magnetic stickers for advertisements you wish to remove.
There is no limit to the ingenuity of car owners in the design of their cars. The time has long passed when hundreds of identical cars drove through the streets of cities, differing from each other except for colour. Today, the desire of people to make life brighter, to show their personality, to introduce some elements of creativity, is manifested in everything, and the car is no exception. Now, your car, thanks to the desire of you as its owner and the efforts of the masters, can turn from a banal vehicle into a work of art!
Vinyl wrap: what is it?
This is a special material. It is fixed on the surface of a car body. The film makes it possible to significantly change the appearance of the machine. Material may be:
Different colour:
Glossy or matte;
Gradient;
Colours of chromed metal, etc.
This material is different from paintwork. It can be removed if necessary. If a high-quality film was used and a modern application technology was applied, then when it is removed, the paintwork of the car body will not be damaged. Therefore, it is important to focus not on price for a car wrap, but on its quality characteristics. In addition, you should choose the masters who know how to work with the materials. It is important that the body is free from defects. If the paint chips, rust appears, then on such a body the film will not adhere well — it will chip in the places of defects. Therefore, if you want to qualitatively decorate the car, we recommend that you first analyze the condition of the paintwork. If necessary, eliminate defects. Because otherwise, even an experienced craftsman will not be able to guarantee the high quality of the relevant work.
The possible options for applying vinyl
Car wraps – application of colour vinyl film (Oracal, Avery): This is the most common way to advertise on a car. Using plotter cuts, images and letters are made from coloured self-adhesive vinyl film and glued to a selected area of the machine's surface. Vinyl film has rich and vibrant colours, even more than print, is resistant to mechanical damage, and fades less. Advertising in this way will certainly be noticed, proving it's effectiveness.
Car vinyl – full colour printing: To take photos and full-colour images with a resolution of up to 1440 dpi and print on a white film with subsequent lamination, which is then used on the car. The method of large-format solvent printing is applied to the desired image, which is subsequently glued to your vehicle. To increase the service life and protection against mechanical damage, advertising stickers are laminated with a transparent protective film. For specific and complex designs, it is also possible to combine the use of colour film and printing.
Our designers and craftsmen can, taking into account the wishes of the customer, completely change the appearance of the car, turning it into a real mobile billboard! As a rule, a special automotive film is used for this, designed for medium and long-term use. We also carry out orders for non-advertising branding of a car with protective films, carbon films, as well as full or partial replacement of transport colour (auto styling).
Types of rear window cars wraps
Having glanced at the photographs around, I think you will quickly find your way around in all the variety and possibilities of this type of advertising. Still, we will mention common positions.
Vinyl film: (Photo) Typically, this is Oracal 641 (see colours). Using a plotter, we cut out text and simple pictures and apply it to glass. Due to the distance between letters and words, visibility through the glass is maintained. Advantages are good durability and resistance to the operation of washing. The disadvantage is that you cannot generate full-colour drawings and photographs.
Perforated film: (Photo) This white vinyl wrap for cars has holes to be printed. Perforations allow the driver to see freely through the glass. Advantages are that there is no design restriction, so you can draw anything you want. The disadvantage is the poor survivability of the press, and its poor performance in a hard wash. Also, dirt can become clogged in the holes, which must be washed out or the view will disappear.
Vinyl film with print: (Photo) As the above, but without holes. This is not glued on glass, as it prohibits the view. This is the only drawback. It is suitable for large vehicles that do not require a rearview mirror. In most cases, this sticks to the metallic parts of the car.
And of course, if desired, all types of films can be combined into one project.
Rear window wrap advertising design
This is the most important part, since the effectiveness of your advertising will depend on it. You should pay attention to the size of the text and graphic elements on wraps for cars as they should be as large as possible. Long and small lists of services should be avoided, so should a complete list of all possible phone numbers, sites, and social networks. The information should be as short as possible, understandable, and contain one contact (a maximum of two). The fact is that the rear window is visible only from an average distance of 3-10 meters, and nobody will see the fine text. The second reason is time. The vehicle can go out of sight at any time, so the client must have time to read everything as quickly as possible (do not forget the contact needs to be remembered or written down). The ideal formula is the type of activity, a phone number, and the website address (maybe 1 photo).
Photos clearly portray the nature of your activity, so you need to use them. In addition, they attract attention where simple text may be ignored. A well-chosen picture will surely attract the eye and prompt viewers to read the text.
Vinyl wrap near me: Benefits
The film used for wrapping cars has many advantages. Let's start with the main advantages:
The material protects against scratches, defects that are formed from being hit by pebbles when the machine moves, it does not allow the paintwork to lose its original characteristics.
The film can be applied quickly and also quickly removed if necessary without harming the paint.
The price of the material and its application is much lower compared to body painting.
The film has a very different colour, design. It does not lose colour saturation for a long time — up to 7 or more years.
With the help of such material, it is easy to transform any car; to make its appearance as original as possible.
Rapid application of the film — it takes no more than 2 days for your machine to receive a beautiful update.
Commercial advantages
The Cost for a car wrap is lower than for ads that involve hand-painted bodywork. The low price is due to the method of applying advertising elements by digital printing. In addition, if you perform a manual painting, then if necessary they cannot be simply removed. We'll have to repaint the car. And the film is easy to remove, if desired, it can be replaced with another film with a new advertisement.
This is an advertisement that is characterized by versatility. Digital printing allows you to create complex graphic elements, and unusual designs. Original design can be created on the entire surface of the car or on a separate body part.
Vinyl film allows you to inexpensively arrange the entire fleet of commercial vehicles. When a new car appears in your fleet, you don't have to worry about its inconsistency with other cars. It will just be possible to order a wrapping with a similar film, and you will have the same car in your fleet as everyone else.
Wrap my car: popular questions
Many who are looking for vehicle wraps near me ask many questions. We will answer the most popular ones.
Question: Does the film affect the interior of the car?
Answer: If the film is applied to the body, then there will be no changes inside the car. If the film is applied, for example, to the rear window, then some dimming in the cabin is possible. Accordingly, if the film is too dark, the degree of blackout will be higher.
Question: If the film exfoliates from the body, what is the reason?
Answer: As we have already noted above, this happens if the paintwork has defects. The same situation can happen if you turn to inexperienced and irresponsible masters.
Question: How do I care for a machine if a film is applied to its body?
Answer: Try to monitor the placement of the car. If you need to leave the car for a long time in one place, it is better to choose a place where there is no direct sunlight. It is advisable to put the car in the garage if it is not used for its intended purpose. Caring for the surface of the body is recommended with the use of soft microfiber cloths. We do not recommend washing the car in a car wash. Rigid brushes of the washing equipment can damage the film coating. Using harsh cleaning agents is not recommended.
Question: How do low temperatures affect the state of a vinyl film?
Answer: The film holds well in different temperature conditions. However, as we have already noticed, it is not recommended to put the car in the sun for a long time. Extreme frosts can also cause damage. As for a normal winter, there is another point to consider if you are looking for a car wrap near me. Road services often use reagents with which they cover roads, so that snow and ice will come off faster. These reagents can damage the vinyl film. But this does not happen immediately, but over time. Therefore, even when moving the car on roads with reagents, the film on its body will retain its original appearance for a long time.
Car wrap prices
The cost of the material is more profitable than the price of traditional painting. But the main influence on the price of a service using a film is provided by the implementation of work on its application. Such work requires high accuracy, control when fixing the material. The master's experience in applying it is very important. Otherwise, do not expect that it will turn out to make a qualitative transformation of the car.
If you are interested in car wraps (Vancouver), then the cost of a full wrap will vary. Designing a small-sized machine costs about $ 2,000. If the car is large, then the price will be higher, in proportion to the amount of material used and the amount of work performed. At the same time, it is possible to film only a specific part of a car body with a film. It will be cheaper compared to a full wrap.
There is always the opportunity to save money by contacting a company with a discount system. We offer our services at a 25% discount compared to our competitors.
Car wrap near me: What do we offer?
Our company offers its customers high-quality car wraps for personal or of private company cars, as well as public transport. In addition, we provide a service for decorating various vehicles with film: cars, motorcycles, buses, boats, or any other type of water transport.
At the request of the client, this can be a local application of a film or a complete pasting with vinyl film (matte, protective lamination, carbon fiber). In our car wraps, we use various vinyl films from such brands as Oracal, Avery and other high-quality materials, which is the key to the durability and effectiveness of your advertising. Offering the service of wrapping auto, we carry out an integrated approach. This means that you can order a preliminary design from us and see in advance how your advertisement will look on your vehicle. Our designers, based on your wishes and advertising goals, will professionally produce an advertising layout. We offer you design development and the creation of effective advertising appropriate to your goals, as well as its competent placement on vehicles. The auto-ad made by us will work for you.
Turning to Quarter Cheaper Signs, you can order different advertising designs:
Free and fast car wraps quotation
We will give you an instant price quote for your car wraps!
Call now 778 697 2169! Remember – we will beat any prices!
Free car wraps design
We will create a bright and catchy eye design for your car wraps for free!
Free car wraps delivery
When you are ordering any type of car wraps from our company, we do free delivery by regions: Coquitlam, Port Coquitlam, Port Moody, New Westminster, Burnaby, Pitt Meadows, Maple Ridge!