How much car magnetic signs in Vancouver cost?
Average market cost of car magnetic signs in Vancouver
| | |
| --- | --- |
| View | Price car magnetic signs |
| 12"x18" car magnetic sign | 36,00 CAD |
| 12"x24" car magnetic sign | 42,00 CAD |
| 12"x36" car magnetic sign | 54,00 CAD |
| 12"x48" car magnetic sign | 66,00 CAD |
| 18"x18" car magnetic sign | 48,00 CAD |
| 18"x24" car magnetic sign | 54,00 CAD |
| 18"x36" car magnetic sign | 66,00 CAD |
| 18"x48" car magnetic sign | 78,00 CAD |
| 24"x24" car magnetic sign | 66,00 CAD |
| 24"x36" car magnetic sign | 78,00 CAD |
| 24"x48" car magnetic sign | 90,00 CAD |
Do you want to save up to 25% when ordering car magnetic signs?
We produce cheap but quality custom car magnetic signs. With Quarter Cheaper Signs, you can save up to a quarter of average market Metro Vancouver prices!
Our prices — the lowest prices for car magnetic signs
| | |
| --- | --- |
| View | Price car magnetic signs |
| 12"x18" car magnetic sign | 30,00 CAD |
| 12"x24" car magnetic sign | 35,00 CAD |
| 12"x36" car magnetic sign | 45,00 CAD |
| 12"x48" car magnetic sign | 55,00 CAD |
| 18"x18" car magnetic sign | 40,00 CAD |
| 18"x24" car magnetic sign | 45,00 CAD |
| 18"x36" car magnetic sign | 55,00 CAD |
| 18"x48" car magnetic sign | 65,00 CAD |
| 24"x24" car magnetic sign | 55,00 CAD |
| 24"x36" car magnetic sign | 65,00 CAD |
| 24"x48" car magnetic sign | 75,00 CAD |
Car Magnetic signs: what is it?
Magnetic signs are your excellent chance to make a huge impression at a very low cost. Thousands and tens of thousands of potential buyers will see your brand in just one day, simply during your journey from work to home. By placing a custom car magnetic sign on your van or truck, you will turn your vehicle into an efficient mobile billboard. Magnetic car signs printing mean you can advertise wherever you go. Magnetic car signs are the most effective and easiest way of advertising. The main advantage of magnetic car stickers is their mobility. It doesn't matter whether you have a large or a small company, and it doesn't matter what you advertise: goods, services or promotions. Or maybe you are just a creative person and want to decorate your car. In just a few seconds, you can turn your vehicle into a bright, original, rental advertising tool. Custom round/circle car magnets are a practical and attractive way to promote, Car magnets help spread the word and memory of you wherever you go or park. Traditionally, magnetic signs for vehicles are made on the basis of a special magnetic tape that is firmly attached to the body of your car and can also be easily removed. High-quality vinyl is glued onto the magnetic tape, which has an additional lamination on top with a high-quality laminating film – to provide protection from external damage and achieve a long service life.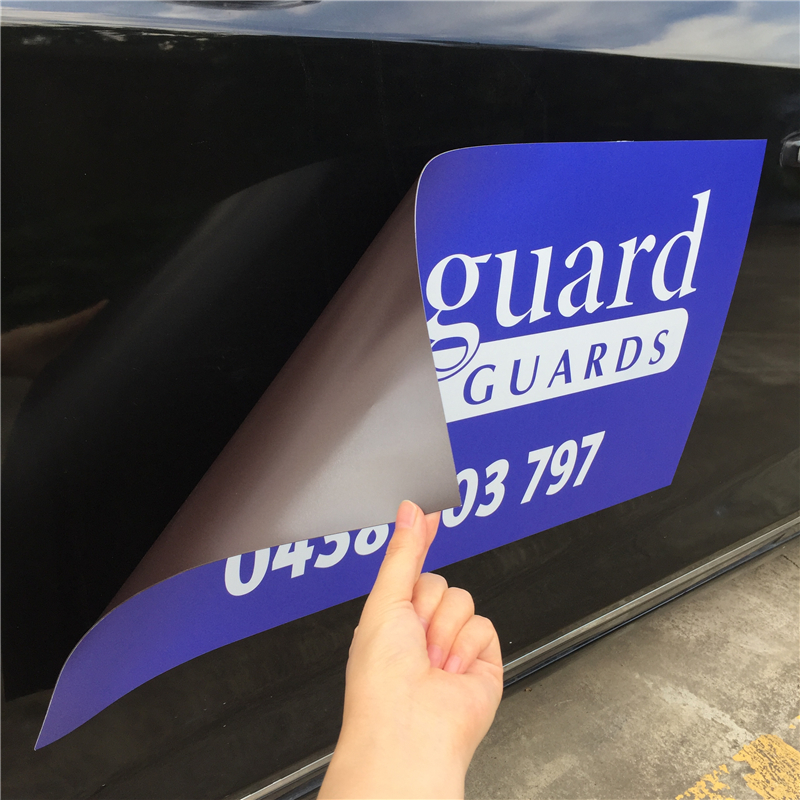 Purpose of use – more
Car Magnetic signs are used not only for business advertising, which, by the way, is very effective and allows you to achieve good results. All of us have seen such stickers – with their help a particular product or service is being promoted. The car in this case becomes a mobile advertising platform. As we have said, with the help of Car Magnetic signs, it is easy to advertise a small business, for example, an owner of a business who provides plumbing services. The owner orders a sticker with the information he needs, and then attaches it to his personal car – that's all! The rest is a matter of time! Car Magnetic signs is a common decoration option, and not only for corporate purposes, when the sticker shows the logo and contact details of the company. Often, stickers are ordered to decorate a car for an event. It can even be a private event, for example, a wedding. With these stickers, you can decorate any car, even a very expensive one. High-quality products do not spoil the paintwork of the car body.
Car Magnetic signs – views
Depending on the purpose of use, Car Magnetic signs may be:
Corporate – are used for placement on official vehicles owned by a particular company, as well as on vehicles that use television channels for their activities, as well as public organizations.
Used by security agencies – Car Magnetic signs are attached to company cars and, as a rule, contain a short name of the security organization, as well as a logo, you can often see contact details.
Temporary options that contain information about where and when an event will be held, for example, an exhibition or a conference.
Promotional Car Magnetic signs – these are products that are mounted on cars in order to advertise a hotel, taxi service, rental services, etc.
Car magnet with logo – unlimited possibilities
If you use your vehicle for other things besides for work, like personal purposes, then magnetic stickers are the best advertising solution. The magnetic car flag sticker is always on board. After work, you can remove it with one swift movement and set off on your personal affairs. Attach a magnet to the door of a car, truck or van and wherever you go; your ad will always be in sight! We can provide incredibly beautiful and bright magnets that will make people turn their attention to your car.
Car Magnetic signs – Benefits
Car Magnetic signs can be used several times. These products do not require special installation and removal. It is easy to detach them from the metallic car body, while during the movement of the car; they do not get spontaneously removed. If you want to change the location of Car Magnetic signs, this is easy to do precisely because of the simple removal and attachment. This feature can be effectively applied in practice when a person uses a personal car for corporate purposes. During operation, the sticker is mounted on a personal car, and after hours, it is removed. Simple installation is not done by any special fastening or glue, which almost always damages the paintwork of a car body. During installation and removal, the sticker does not leave any visible traces, which is important because the body of the car is used for fastening. These stickers can be used at different times of the year and are not affected of even frosts! In addition, they serve for a very long time, can tolerate moisture and do not lose their color when exposed to sunlight. Another advantage of custom shaped magnetic car door signs is their cost-effectiveness and affordability. Small and medium-sized businesses may not have the financial luxury of producing large-scale advertising, hiring large billboards to be placed at strategic points, or digital marketing campaigns. As a bonus, our advertising agency provides quantity discounts. For example, you can order two magnets to equip each side of your car, and manufacturing will cost you less.
Car Magnets – Maximum Use
Our team will help you think through the best and most effective design. The brightness and creativity of advertising even depends on the color of your car. The text should be large, visible, and readable. Even in motion, magnets should clearly display your message, logo, and contact information. After all, your professional image depends on this. Advertising magnet for a car – application guide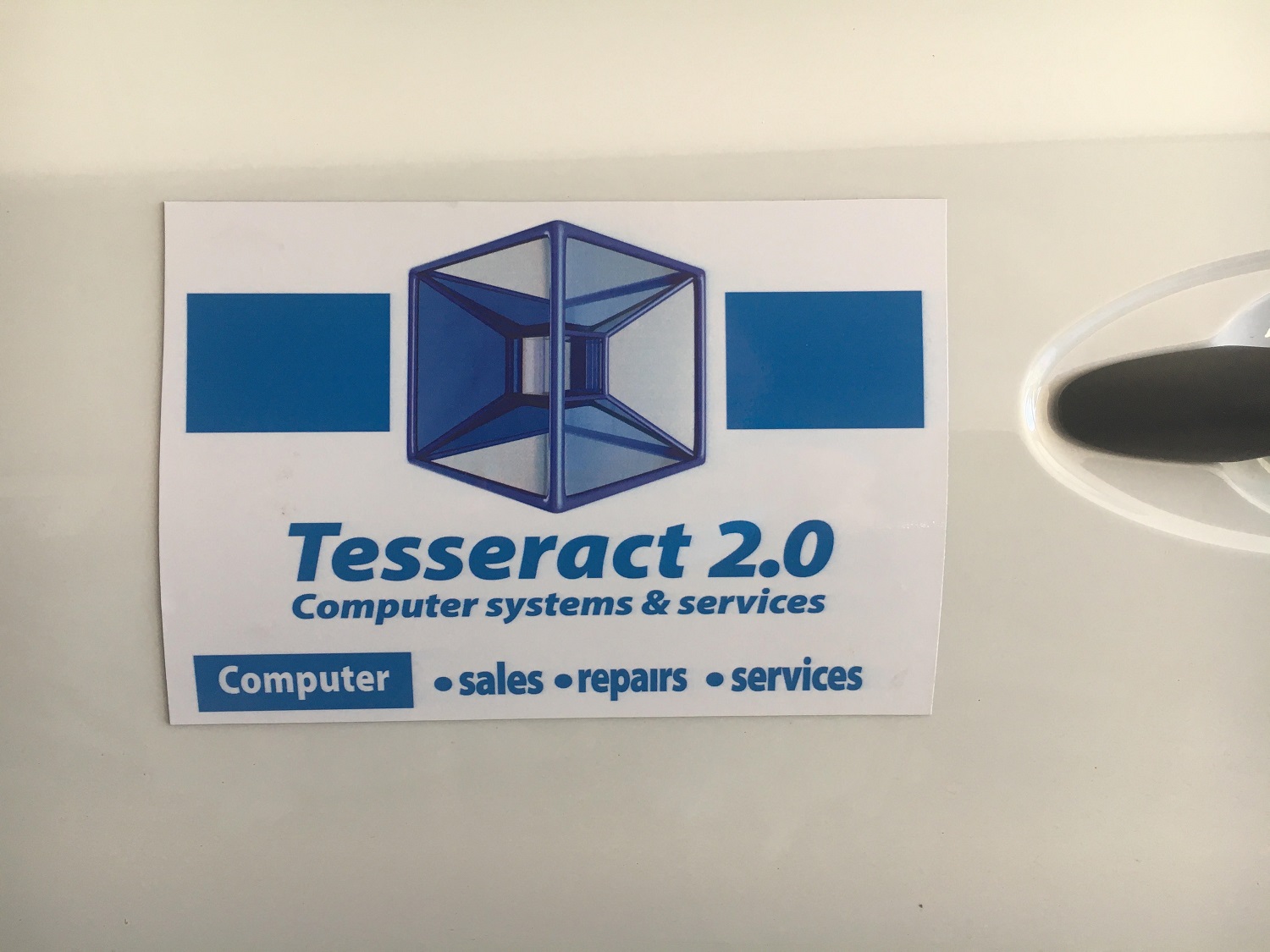 First, clean the surface of the car of dirt,
Dry the area where the magnet will be placed,
Apply the magnet to an area without dents or bulges, and
Remember to remove the magnet before washing the car or if it is not in use.
Are you ready for magnetic car stickers to quickly and easily turn your car into effective advertising? Any business should use all available means to reach its audience, convey its message, sell its products and services, and stay visible for as long as possible via magnetic business signs for cars. Take advantage of our quantity discounts and order a few magnetic stickers to equip each side of your vehicle. Our car magnetic branding is the perfect solution for your advertising needs when you're on the go! Our company will make any magnetic sign for your vehicles a quarter or 25% cheaper than market prices! If you did not find what you need in the list of our products, ask us a question and we will try to do what you need. Without changing our basic principle – it will be 25% cheaper than the market average!
Car magnet signs near me — questions and answers
When customers order car magnets printing, they often ask questions. We collected the most popular questions and decided to answer them.
Question: Are the magnetic stickers resistant to weather conditions?
Answer: Yes, these products hold well. They are resistant to rain, snow and wind. We make magnetic car decals custom from a material that does not lose its properties outdoors. In addition, we use inks that do not lose their color, brightness, under the constant presence of sunlight. These are permanent inks that cannot be washed away by the rain.
To order truly high-quality magnetic car decals, contact companies that have a positive reputation. Many who wish to order such products want to spend very little money, as a result they get products of poor quality. Poor-quality stickers stick strongly to the body, they spoil the paintwork or lose their shape.
Question: Do these products not detach during a car wash?
Answer: When a car is washed using special equipment, water is applied under high pressure. Labels may not withstand too much water pressure. The same situation can happen in very heavy rain. To prevent this from happening, we recommend that you remove your custom shaped magnetic car signs before you wash your car professionally, or when rain turns heavy.
Question: Can I order a curly sticker?
Answer: Yes, we make products of different shapes: rectangular, oval or round car magnets. We advise you to order products that do not have sharp corners. They are distinguished by better fixation on a car body. It is undesirable to attach complex curly stickers to the car. A product that is simpler in form will serve its intended purpose for a long time.
Question: Do you need to care for magnetic products?
Answer: Of course! The car becomes dirty during operation. Are car advertising magnets fixed to the body? If so, they will be polluted. They must be periodically removed and cleaned of dirt. If you need to remove the product for a while, store it in a safe place so that it does not change its shape. You cannot store several magnets together stacked on top of each other.
Question: Are there any requirements for the design of magnetic products?
Answer: It should be noted that custom shaped car magnets are products that can have a different appearance. There are certain design requirements for such products. For example, the sticker should be contrasted with the color of the car body. The information on the sticker should be well read during the day.
Question: Can I order a universal size sticker?
Answer: Many people think that a magnetic product that is mounted on a car can be made universal in size. The universal size of custom car door magnets, in their opinion, will make it possible to mount the product on a car of any size. However, this is a misconception. These products are manufactured in certain sizes for small cars, separately made for SUVs and separately made for large cars. It is important to understand that it is very difficult to make a universal sticker, since the door features are different for all cars. These can be magnetic letters for cars, but when choosing a size you do not need to think that this is an unimportant moment. Another mistake when a sticker is ordered approximately. As a result, it may not be suitable for a particular car.
Why is it important to remember the features of the car body in the manufacture of custom car magnets? Why measure the mounting area of a future product? The door of the car may have a high degree of curvature or it may be trimmed. If you do not precisely measure the mounting area, the following situation may occur. The sticker will not fit snugly against the car body. Between the sticker and the body air pockets will appear. This will cause the sticker to detach from the body, and it will be very easy to lose it while the car is in motion.
Question: Does the car magnet advertisement not harm the body paintwork?
Answer: Yes, it doesn't do any damage. But this is only if the product is made of quality materials. In addition, quality stickers even protect the body. But since the paint coating changes color over time under the influence of the sun, it is recommended to periodically remove the stickers so that the shade of the coating under the sticker and near its attachment point stays the same. In addition, magnetic stickers cannot be attached to areas damaged by rust. Stickers in such areas will not hold well.
Question: Can a car door magnet be attached to the body of any vehicle?
Answer: Yes. These products are made of material that is specifically designed for mounting on a metal surface. The surface should not have defects. Otherwise, it cannot be guaranteed that the mount will be secure.
Question: If you order magnetic car signs cheap, will they stay on the car body for a long time?
Answer: It is possible to order such products from us inexpensively. We offer quality promotional products that are affordable to many of our customers.
Question: Will advertising be effective if magnetic stickers are used?
Answer: Yes. Especially if you use your car often. Car flag magnets with business information will see many potential customers. In this case, you do not need to conduct expensive promotional events. The advertising sticker will do everything for you. It will inform potential customers about your business whenever your car moves around the city.
Business car magnets: What affects the price?
How much are magnetic stickers? The cost of such products depends on many factors. The size and design features are the main reasons why the price of advertising magnetic products may vary.
Important! To get high-quality custom car magnet signs, you need to use professional services for the production of such products. A company that offers such services should have special equipment. High-quality materials must be available to ensure that custom logo magnets for cars will be securely attached to the car body and will not lose their color brightness. We have all these features, so you can be sure that you will order the best products from us at a price that is favorable to you.
Turning to Quarter Cheaper Signs, you can order different advertising designs:
Free and fast car magnetic signs quotation
We will give you an instant price quote for your car magnetic signs!
Call now 778 697 2169! Remember – we will beat any prices!
Free car magnetic signs design
We will create a bright and catchy eye design for your car magnetic signs for free!
Free car magnetic signs delivery
When you are ordering any type of round or custom shaped car magnetic decals from our company, we do free delivery by regions: Coquitlam, Port Coquitlam, Port Moody, New Westminster, Burnaby, Pitt Meadows, and Maple Ridge!