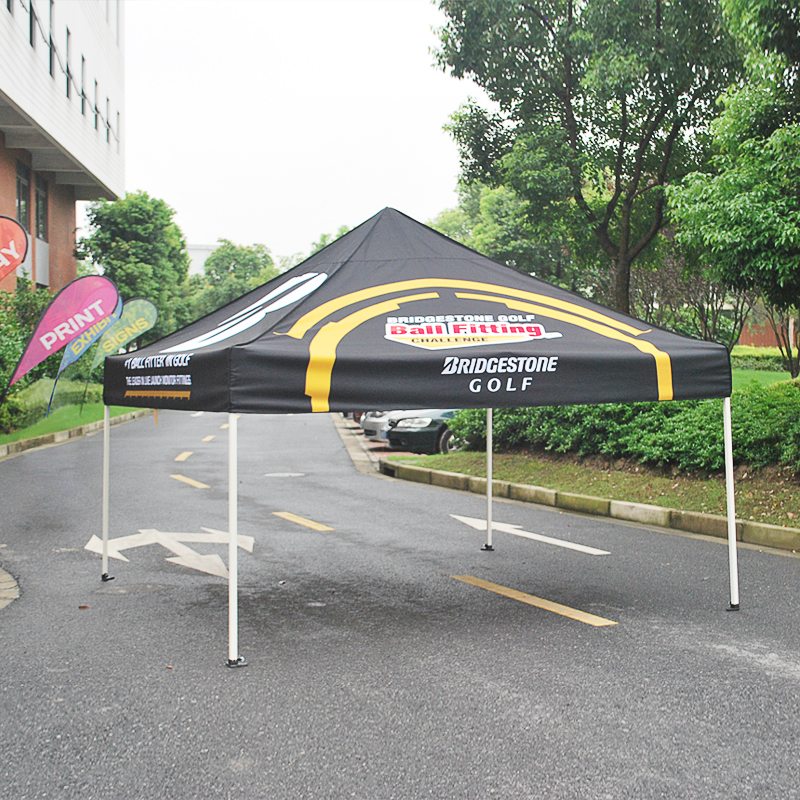 Tents or canopies with custom graphics – cheaper than anywhere else!
Do you want to save up to 25% when ordering a canopy with your logo?
We produce cheap but quality custom canopy tents. With Quarter Cheaper Signs, you can save up to a quarter of average market Metro Vancouver prices!
Canopy Tents Signs: what is it?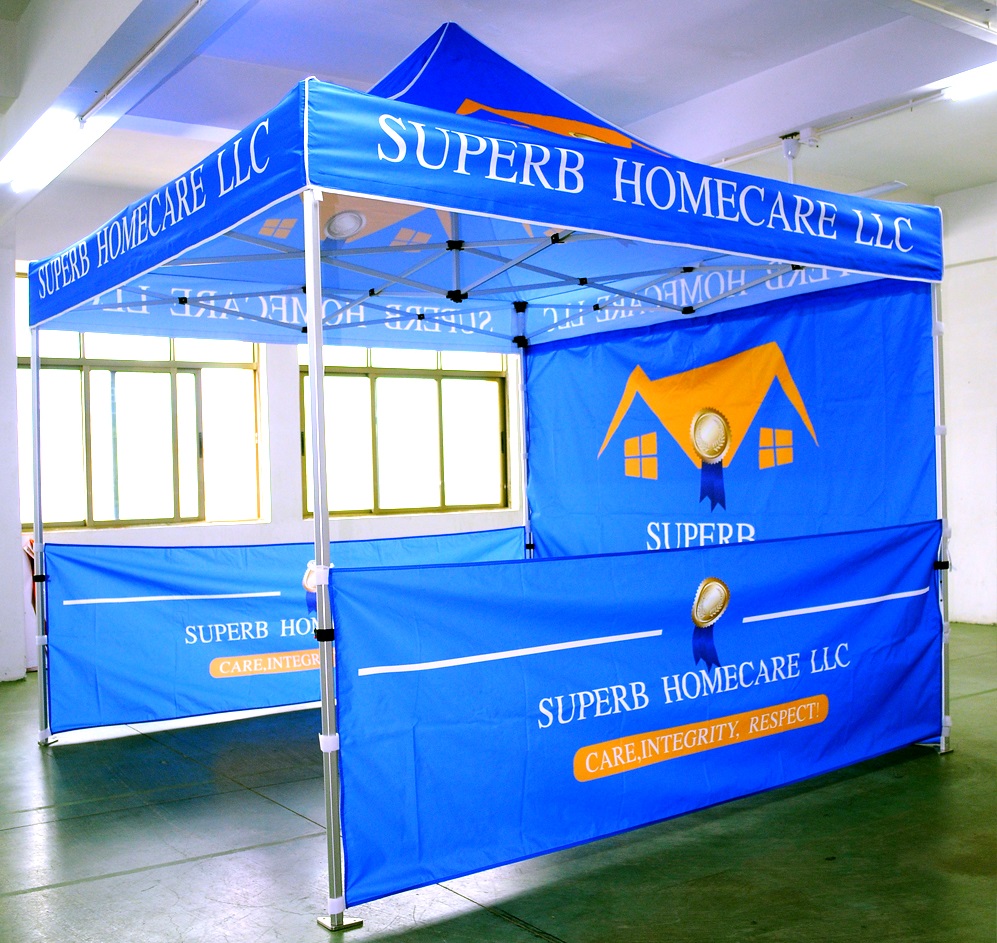 Canopy Tent is a tent-like construction, but often with open sides. A logo and information about the owner of the awning are applied to the sides and the roof of the awning. This is an advertising structure that is perfect for holding various events where it is required to introduce the company and its products or services. The canopy, decorated with bright advertising, attracts the attention of potential customers, which positively affects future business activities, as well as non-profit activities.
Canopy Tents Signs: where are they used?
Canopy Tents with a surface on which images and inscriptions of an advertising character are applied, indicating the ownership of the awning of a particular company, are used:
If necessary, to present your goods and services – if you need to install a mobile facility that will help to advertise products or services, then a lightweight tent is better suited to achieve this goal.
In trade, when anniversary sales are organized.
To attract attention to some event – advertising tents can be found at sports competitions, as well as during campaigning events.
At exhibitions and other public events.
In addition to the above uses, tents are used for various celebrations and holidays. This is a convenient design and various colorful patterns are applied to its surface.
Canopy Tents Signs: How to Design a Corporate Tent?
Canopy Tents Signs It is necessary to think over its design to the smallest detail, work on the graphics, and then make the final decision on the manufacture of the company tent. Only in careful study of the images and inscriptions that will be applied to the surface of this mobile advertising object will it be possible to attract the attention of new customers.
You need to understand that in any business, a brand has great power. But in order to achieve its recognition, it is necessary to work on its advantageous representation. Statistics in the marketing world indicate that if a brand is promoted with the help of such designs as company tents, signboards and other outdoor advertising objects, then on average you can increase your business success by more than 50%. Some researchers are sure, and there is evidence in the form of studies that advertising organized with the use of external branding of structures leads to an increase in sales growth up to 20-25%. By the way, it should be noted that the company tent is a rather big object, so it can be seen from afar. This means that your brand will be seen by more people.
Canopy Tents Signs: Features and Benefits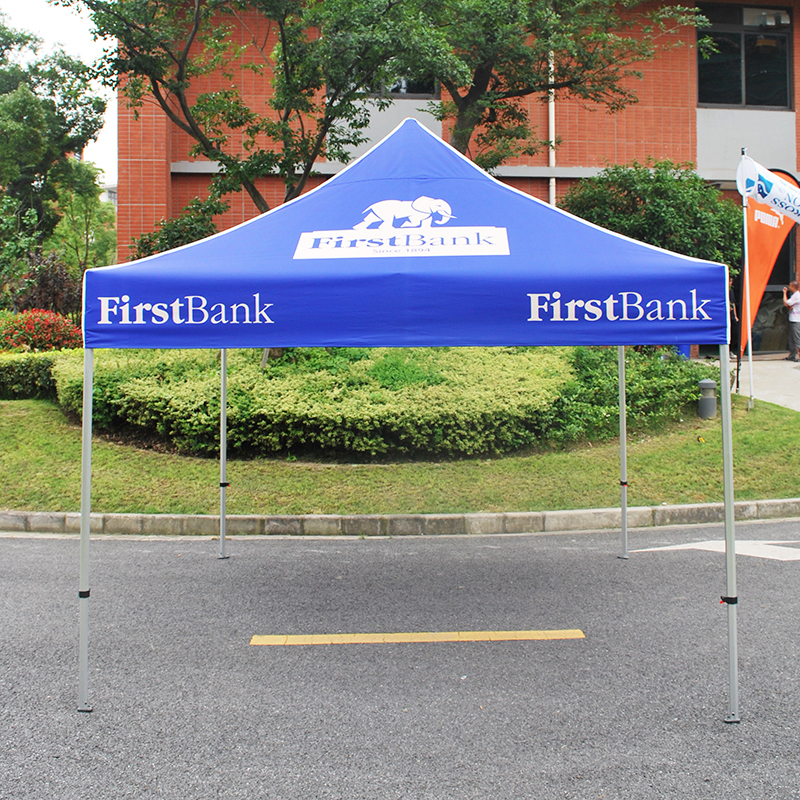 In addition to the advertising function that a company tent performs, if it is decorated in accordance with the branding of a particular company, it also performs a very obvious practical function. It creates comfort for those under it. A branded tent in the heat will hide from the scorching sun. If it suddenly rains, then in this case, the tent roof will help persons not to get wet.
A medium-sized company tent is a mobile facility. It can be easily assembled and just as easily disassembled. When folded, it takes up little space and it is easy to transport and handle. Only 1-2 people are needed. The tent has 4 racks, each of which is installed separately and rises to the desired height. It takes a little time to install and subsequently assemble the entire tent. The simplicity of installation is clearly not the case when it comes to heavy prefabricated objects, when an entire team is required to install them.
In addition, you do not need special vehicles for transporting company tents. All its elements can fit in the trunk of a conventional SUV. This is an important point for small businesses, as well as for organizers of shows or holding volunteer events.
A beautifully designed company tent is always an object that can become an ornament of an event. In addition, colorfulness, as we have already noticed, can attract people's attention. This is how the human eye is arranged; persons will never miss a bright and colorfully designed object. What a person sees is sure to be deposited in their memory. If an individual is already ready to become your client, he/she will be glad that they saw the business you presented at a particular event.
There are many benefits of adding a custom graphic to your tent or canopy. It is a great way to grab people's attention and stand out from others. Moreover, there are increased chances of more sales and getting people's support when it comes to causes, if you have your logo displayed on the custom canopy tents.
However, you surely have a couple of questions in your mind before investing in a custom graphic for your tent, such as: what is the size, the available options or if there is anything else when it comes to custom graphics? In keeping all of these questions in mind, let us discuss everything in detail, so you can understand everything that there is regarding custom graphics and what you can expect whenever you order custom tents.
Important Facts To Know Prior To Buying
There are certain factors to think about before you decide to purchase a canopy that has custom graphics on it. For instance, types and sizes of the canopy tents, their cost, and their applications; each of these factors will impact the effectiveness of the custom canopy that you purchase.
Why Should You Purchase Your Very Own Custom Canopy?
Whether you are or you aren't thinking about purchasing your very own custom canopy, either way, these custom tents are known to grab positive attention. These tents and canopies are available in a number of different styles and colours, not to mention also customised. Hence, they tend to stand out a lot.
With a custom canopy, charities can get the attention that they need for their specific cause, businesses can attract customers, or your personal canopy can display a unique appearance. It can be difficult to attract people's attention; however, when you have an eye-catching and noticeable canopy, everyone's eyes are going to be on you.
Canopy tents come in many sizes, among which a popular one is the 10×10 feet, and many other sizes are available as well. Custom graphics are also applied on canopies of various other sizes, such as 5 foot by 5 foot, 8 foot by 8 foot, 10 foot by 10 foot, 10 foot by 15 foot, 10 foot by 20 foot, 20 foot by 20 foot, including different sizes of pole tents and large frame.
Moreover, before you choose the right size canopy, you will need to think about the main purpose of the custom canopy tents you are getting, since this will affect the amount of space that you will need. For instance, a custom canopy with graphics will be bigger in size when used for a barbeque in the backyard and smaller when used in a certain craft show. Hence, how can one know what's the right size? For that, there isn't any definite method; however, one can take certain approaches that can help in estimating the amount of space that will be required.
For instance, if you are displaying or selling products or items, then you will need to calculate the space each of those products might take, without overcrowding your custom canopy. When calculated with lecture-like layouts and chairs, one could estimate about 5 to 6 square feet for one chair. When it comes to an event that will serve meals, you can have an estimation of about twelve square feet for one person while using tables that are round, or ten square feet when using square or rectangular ones. In most cases, you can take an estimation of about ten to twelve square feet for one person, if you're hosting an event or a party. Having these guidelines around should help you in determining the size of the customised canopy tent you're looking for.
Free and fast custom canopy tents quotation
We will give you an instant price quote for your custom canopy tents!
Call now 778 697 2169! Remember – we will beat any prices!
Free custom canopy tents design
We will create a bright and catchy eye design for your custom canopy tents for free!
Free custom canopy tents delivery
When you are ordering any type of custom canopy tents from our company, we do free delivery by regions: Coquitlam, Port Coquitlam, Port Moody, New Westminster, Burnaby, Pitt Meadows, Maple Ridge!